Doubts regarding whether the US universities should open or close campuses in fall increase every time another breaking publication appears in the media. For example, it was assumed that in the case of new outbreaks, university medical centers would play a key role in fighting them. They would test students and faculty staff for COVID-19 and its antibodies, have daily symptom screening, provide individual means of protection, check public areas for compliance with sanitary and hygienic standards, etc. However, the results of the major survey conducted by The Washington Post in July showed that "the coronavirus pandemic will be the biggest challenge yet for campus health services" and that "student health centers are akin to the Wild West of medical care" because most of them are not licensed by states. Only about 220 campus medical clinics of the 1000s nationwide are accredited by outside health organizations as meeting the best practices.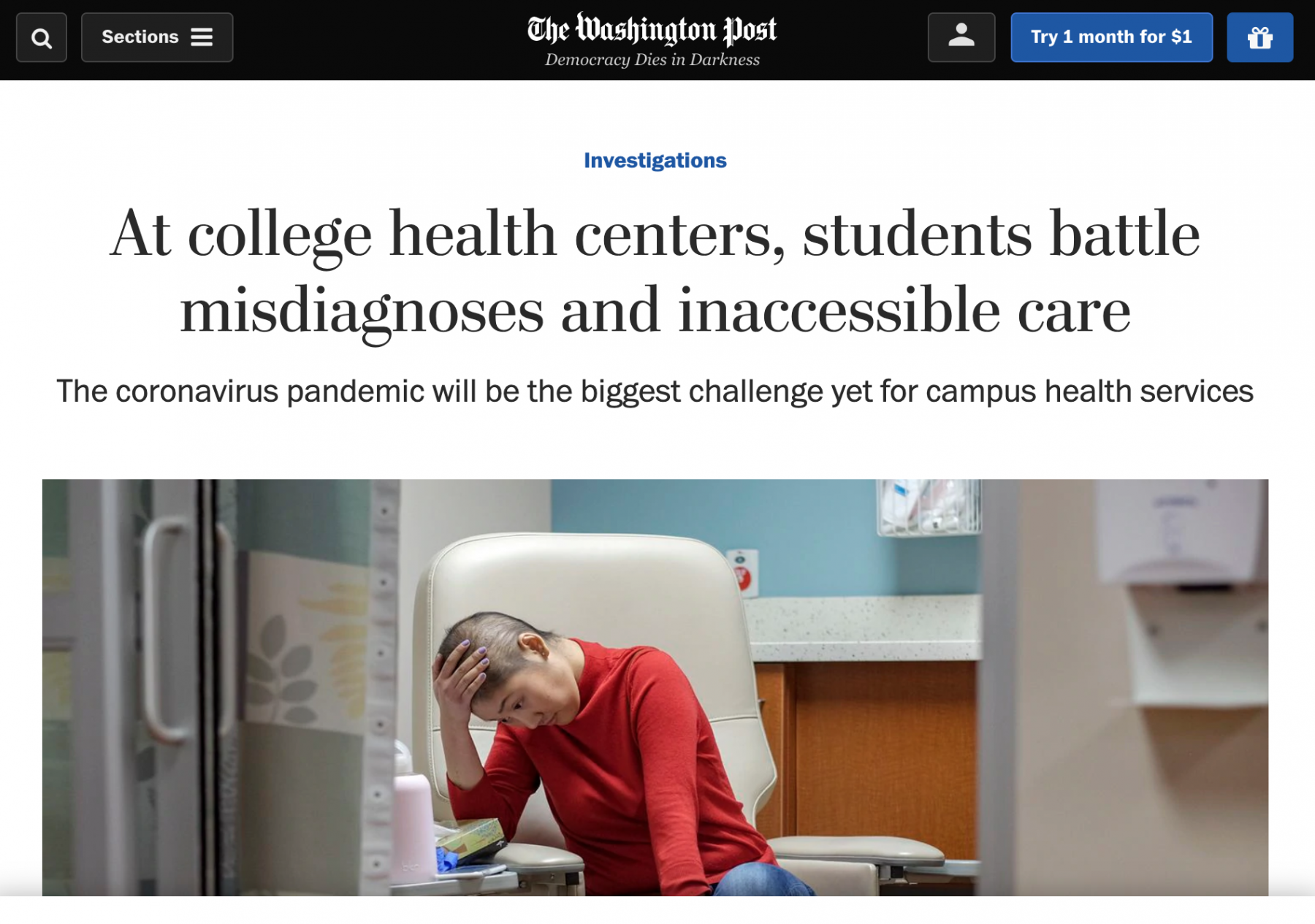 "Health experts have described colleges as cruise ships on land, ideal places for the novel coronavirus to spread quickly through shared dorm rooms, communal bathrooms, and dining halls… College health officials, meanwhile, are privately discussing insufficient stockpiles of personal protective equipment, inadequate access to coronavirus testing on campus, and a short supply of rooms to quarantine students, according to interviews, emails, and presentations reviewed by The Post." This does not concern private elite universities with unlimited resources, such as Stanford, that have their own on-campus clinics. Nevertheless, university officials plan to lock their doors, refuse drop-in visits, and shift many appointments to telemedicine. The goal is to prevent the virus from spreading within health-care facilities.
The Post found that high tuition fees in universities and colleges do not guarantee high quality of medical care on campuses, which students' parents have a great deal of hopes for. For future students, medical facilities rarely mean more than fancy dormitories and sports centers. University medical staff are often underqualified, which leads to misdiagnoses. The Post turned the world around for many readers, having given not only general figures and facts but also having described some private, sometimes tragic, stories of students who became victims of mistreatment at universities, with a very positive reputation in the academic community.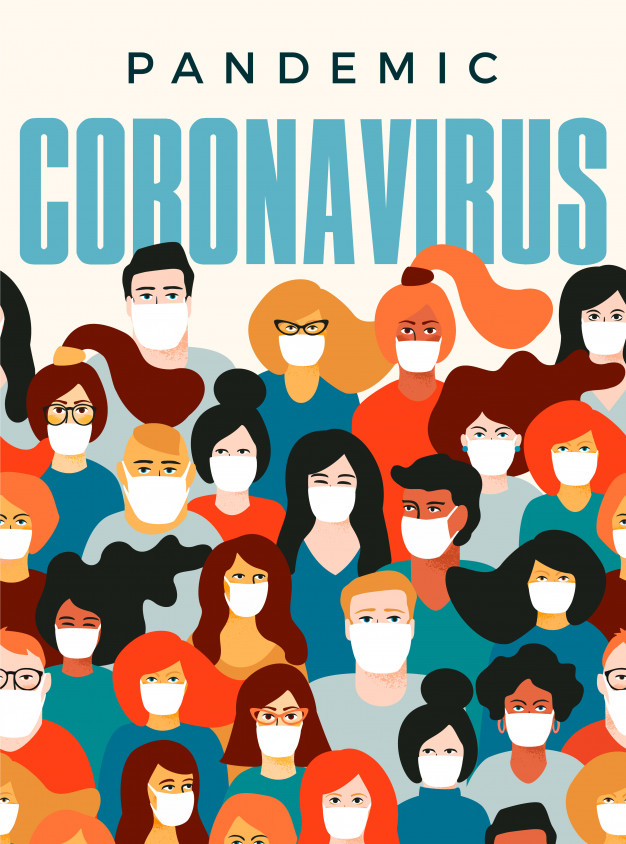 All of that forced universities to work on their own requirements in addition to those received from the state. A very strict policy has been developed in response to constantly changing conditions that influence the level of risks for the health of students and faculty. Such a policy, as a rule, is made protocol and posted on university websites. This approach was chosen by the University of Texas (UT). Coronavirus cases and hospitalizations in Texas broke records earlier and continue doing so. The university developed six protocols that regulate its work regarding levels of alert from the total opening of the campus to its total lockdown and getting back online. The protocols determine the levels of operation for classes, housing, research, and other events and activities.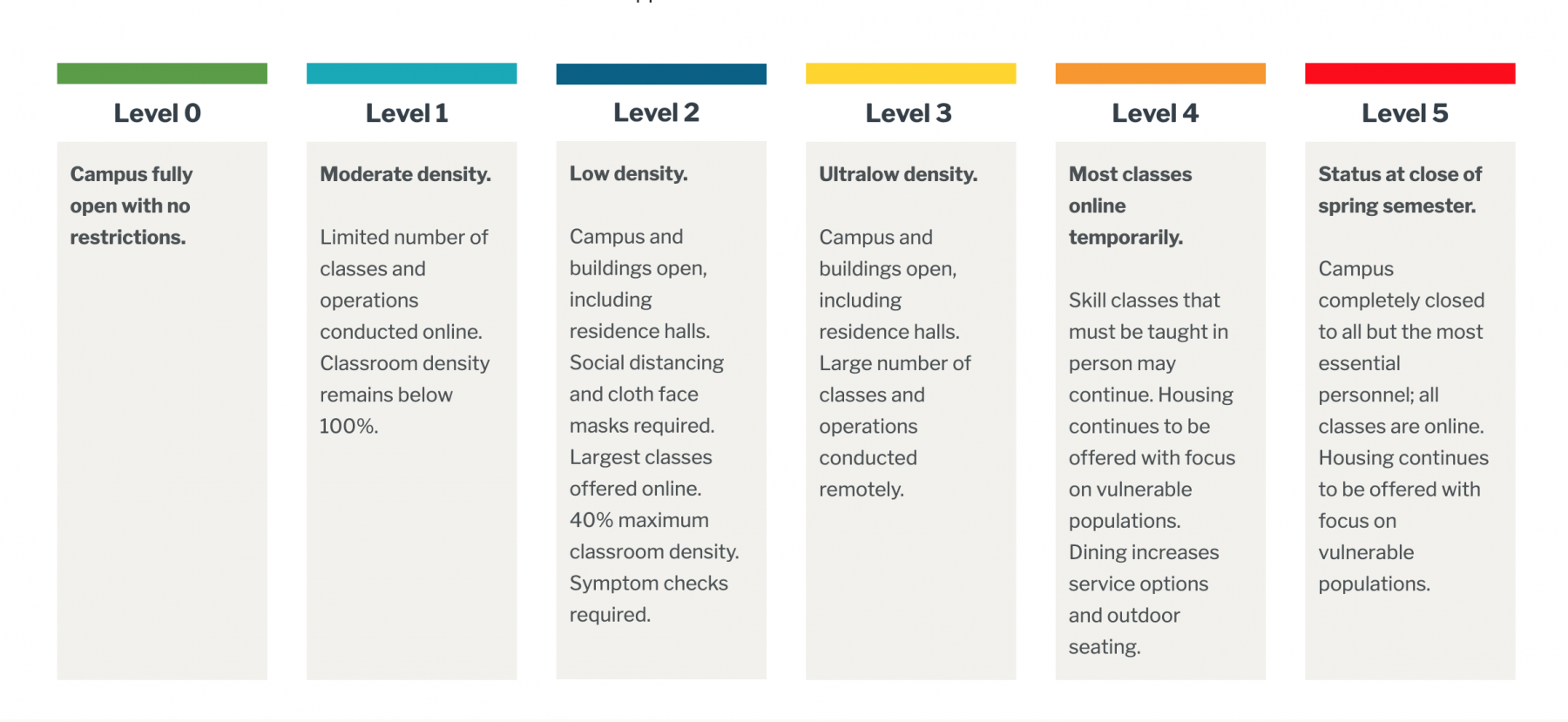 The University of Texas's protocols illustrate a flexible approach that does not exclude a hybrid model of education. Various factors may indicate a university's need to switch from one mood of operation to another, in accordance with the changes in the pandemic situation. Among such factors are special orders issued by the president, and state officials of the USA; dynamics of the pandemic; test capacities of campuses; the number of means of individual protection on campuses; the ability to arrange quarantine conditions; the COVID-19 situation in other universities that are comparable with the University of Texas. A protocol may be launched by the university community in response to any trigger. For example, if there is a coronavirus death among students, faculty or staff. Besides the protocols, UT has developed an inspection procedure, certification of university buildings and dormitories, and a navigation map around the campus. A well-structured university website contains a lot of useful information, and offers to leave feedback if needed. Any student or employee may fi out what the situation on campus is and take respective measures. A very detailed reopening plan has also been developed by the University of Florida.
In general, that is the experience of US universities and their plans on reopening in the upcoming semester in the current situation with the coronavirus. It is quite different from what the QS Agency has presented as the result of their analytical work with university administrations outside the USA. They published a report on July 20, and called it "How Universities are Addressing the Coronavirus Crisis and Moving Forward."
Among the most interesting diagrams are: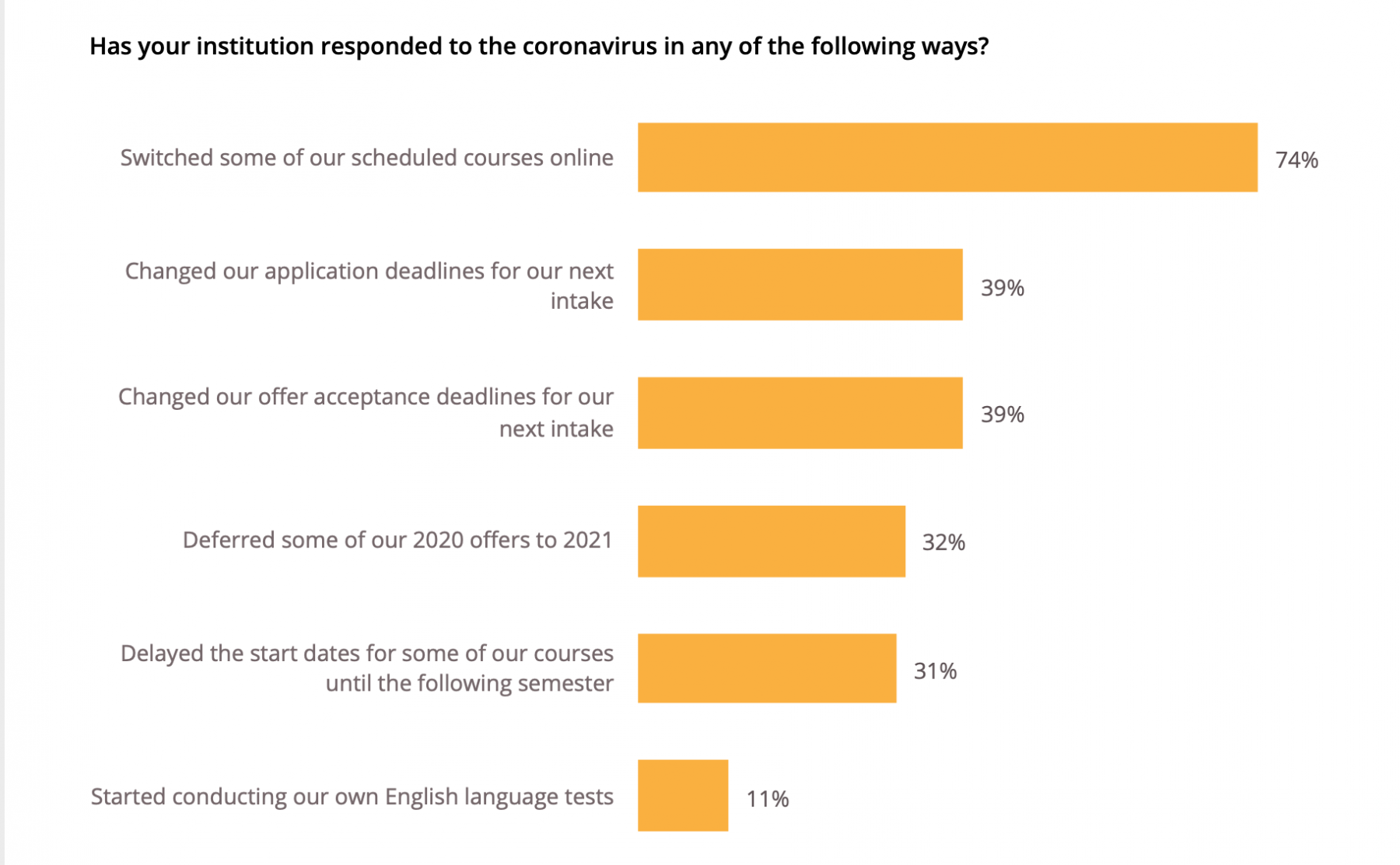 The QS Agency pointed out that many universities switched to distance learning as the crisis was developing. However, the percentage of universities which made this adjustment went from 74% in June to 68% in July. It allows us to assume that the situation may be reversible. It is also obvious that more and more universities are delaying their start dates in order to give their enrollees more time to evaluate their options and prepare for the new semester.
Here is another diagram: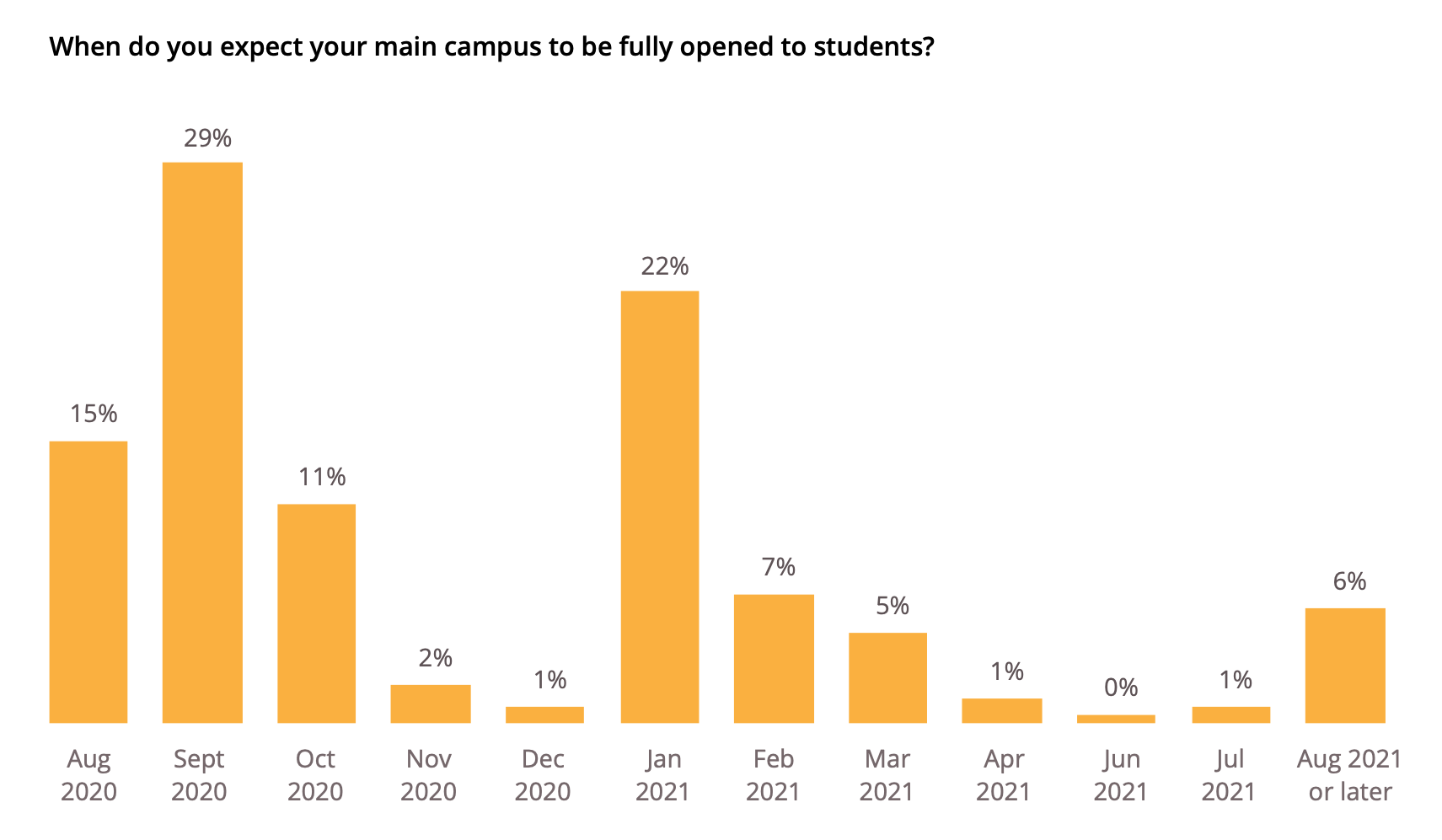 29% of respondents hope that their campuses will open in September 2020. 15% believe it will happen in August and 22% place their stakes on January 2021.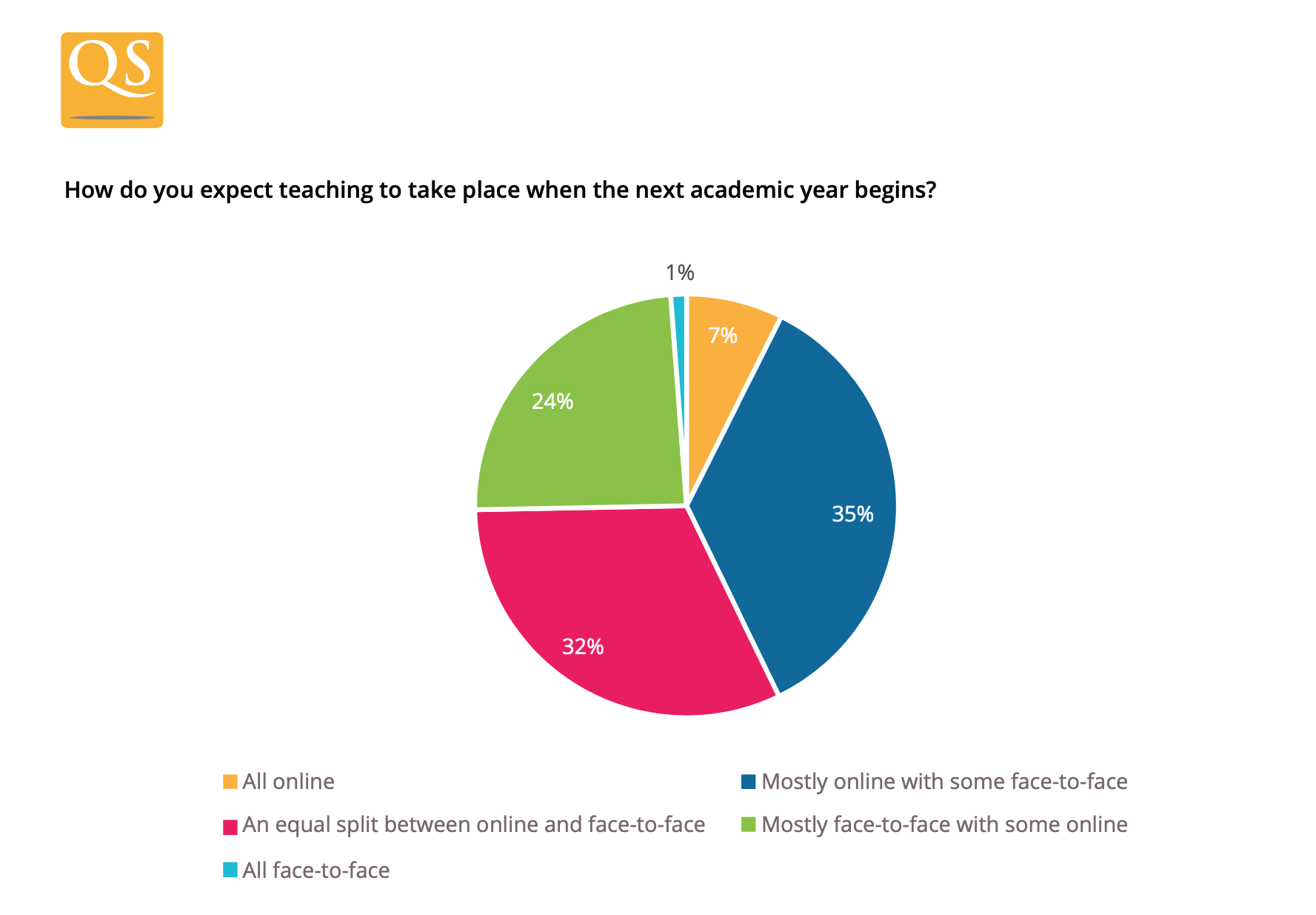 Such a complicated combination of formats will require universities to develop strong measures against the spread of the coronavirus.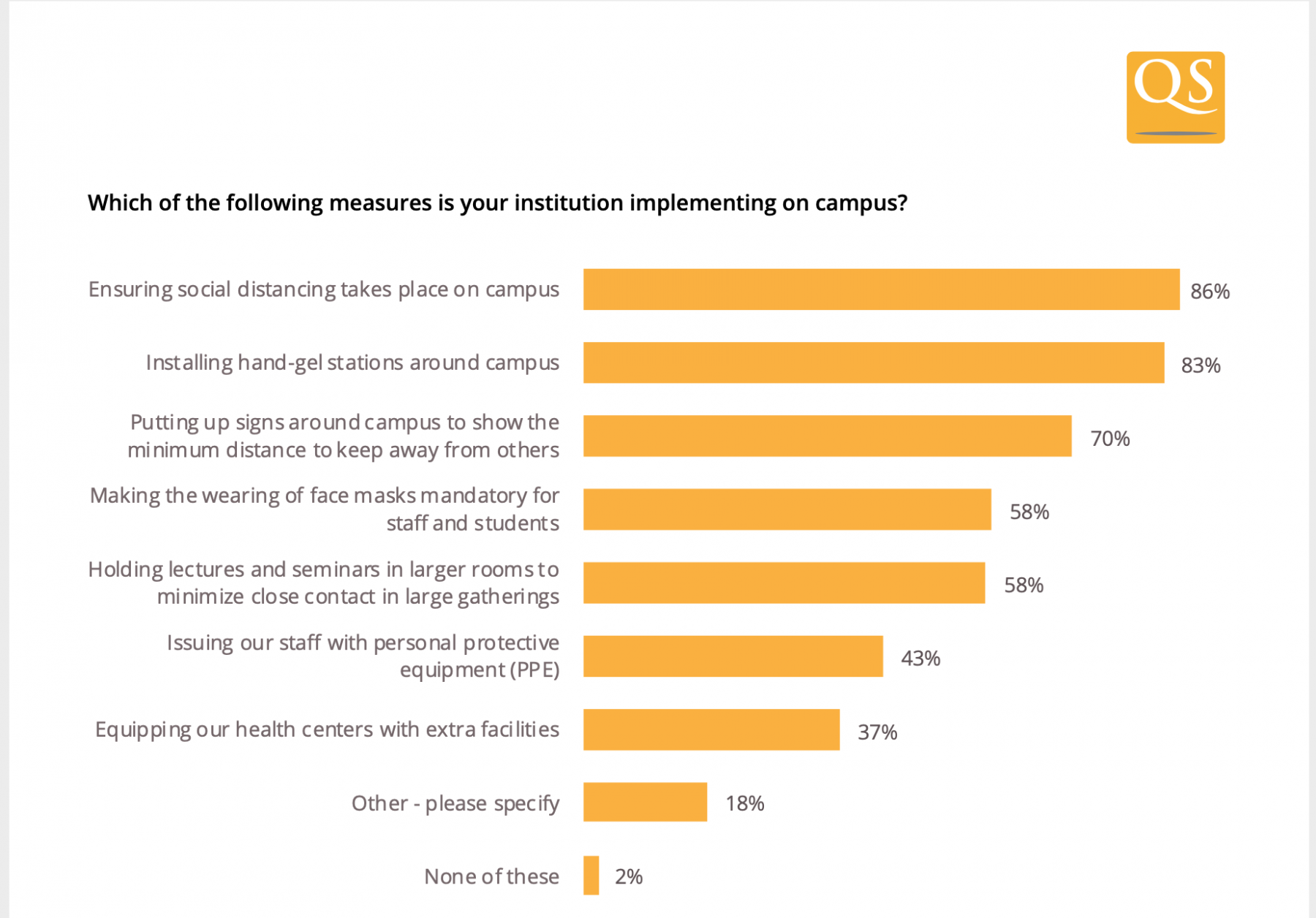 In conclusion, I must say that the cases of the American universities and the QS's statistics show that we will most likely have three options to choose from in the upcoming academic year:
- an online-only format;
- a combined, hybrid format;
- on offline-only format.
The latter can be implemented only at small universities and colleges that are usually private and elite. They are located outside cities and have comparatively thin student bodies and faculty. Ideally, those are universities and colleges with high budgets. They can afford daily health screening and to sanitize everything.
Their campuses must be large enough to allow people to stay away from each other. There must be single rooms in dormitories, two-way tracks, etc. It is clear that there are no more than ten such universities in the whole world. But it does not mean that no one else, despite all the risks, will prefer the offline format to the online or hybrid formats. The economy and the human factor will play a crucial role. The most important thing is that the most preferable position will be occupied by those universities that have appropriate protocols, considering as many scenarios as possible and will be ready to use them at any moment.
Anyway, I would like to finish this post with words of hope - hope for the new academic year to be successful for all universities around the world, despite all the obvious problems we need to deal with right now.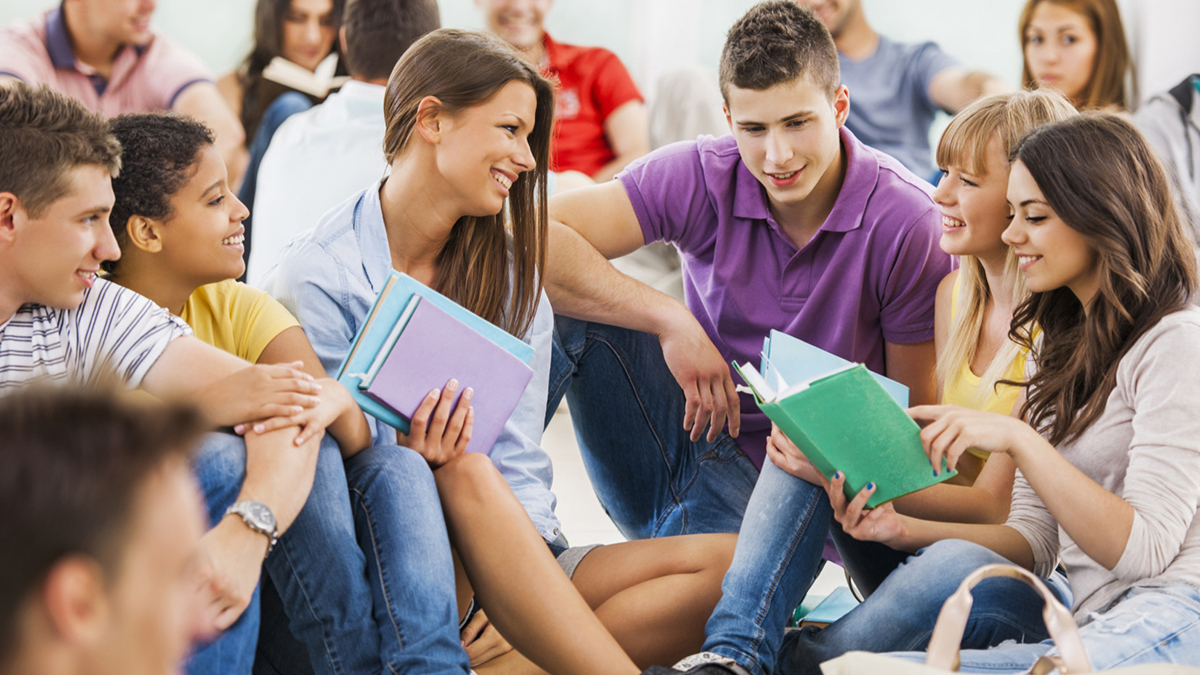 Eduard Galazhinskiy
(translated by Snezhana Nosova)