Gokma Sahat Tua, a bachelor's student, offers Tomsk residents to recycle plastic waste into ink for 3D printing. The student from Indonesia has developed his project as part of the curriculum of TSU and the University of Maastricht (Netherlands).
The TSU Tomsk International Science Program (TISP) is an international bachelor's degree program in the natural sciences, physics, and mathematics areas presented in English, developed jointly with the University of Maastricht (Netherlands).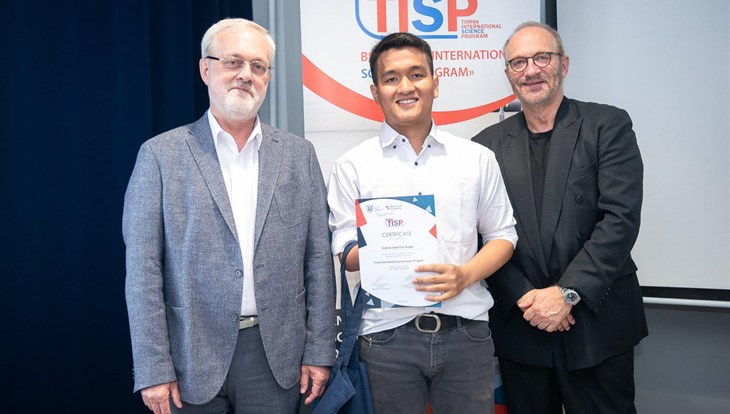 The program is problem-practice-oriented, that is, it involves students in solving real problems. One of these was undertaken by Gokma Sahat Tua.
- Each city has its own dark side. Go to bedroom suburbs away from the center, and you will see landfills full of plastic and other waste bins. But the whole world in recent years has been moving toward waste treatment. Somewhere this is almost a natural process, and other places there is still a lot of work to do, -says Gokma Sahat Tua. We have developed an extruder for recycling plastic waste into 3D printing ink. The machine is assembled in parts, which can be ordered online. The total cost will not exceed 10,000 rubles. That is, this is very cheap equipment that a group of students can afford. The raw material for the extruder is plastic that is not accepted even for standard processing. If you don't go into technical specifications, the extruder transforms polyethylene and other types of plastic into 3D printing materials. You load the resulting thread into a printer and can print anything - watches, chairs, or any designer items and models. - said Gokma Sahat Tua. From an environmental point of view, plastic is a dangerous, toxic, and useless material with a specific odor. But for design, it is a supermaterial that can be used everywhere and saves money.
Currently, the project team has developed a website where everyone will be able to learn about waste recycling, its rules, and the possibilities for the second life of plastic. A mobile application will be an addition to the website.
- We need to build a connection with Tomsk residents, to tell them that you cannot just buy new things, but make them out of plastic, for example, make designer clocks for the house. The development will be available to everyone in the place where our equipment will be installed, - the student says.