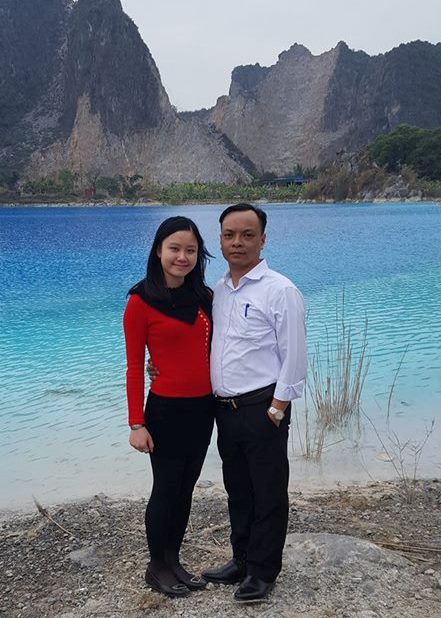 We are publishing interviews that were made by Hilesha Humphreys, a student of the Faculty of Journalism.
Kyong Tke Nguyen is a graduate student from Haiphong, Vietnam studying in the Institute of Applied Mathematics.
He lists Thailand, China, and Indonesia as countries he's travelled to.
Within the Russian Federation he boasts having lived and studied the Russian language in Kazan and having visited Novosibirsk as well.
Kyong is not on this academic journey alone. He is accompanied by his wife, Trang who is also a graduate student at TSU. Her focus is Robotics.
Kyong

How long have you been in Russia?
I've been in Russia from 2017. I came to Russia to study to in the graduate program. A friend studies in Tomsk, but at Tomsk Polytechnic University(TPU). He told me about it. He said that TSU and TPU are alike. Before TPU didn't have what I wanted to specialize in so applied to TSU.
Tell me about your scholarship, and the process of getting it.
The scholarship is done based on a contract between the governments of Vietnam and Russia. I get a stipend from both governments. In order to get the scholarship, I wrote an essay, and sent it to Russia along with my academic documents.
How long until you complete the program?
In total three years, this is my first.
Tell me about your academic experience thus far.
My professor only speaks to me in Russian. I study using information from the internet. I find English textbooks and translate them into Russian. It's just that in my field there are a few textbooks in Russians. The exam was very difficult, only because of the Russian language.
Trang
You went through the same scholarship procedure, and studies in Kazan also?
Yes, we were together.
Do you communicate with Russians easily?
No, it's very difficult. When speaking of life, it's easy but when it's about academics it's harder because there are many word I don't know.
Tell me a bit more about your academic experience.
I study robots and need to make the programs for robots, and localization and mapping. It's very difficult. It deals with parallel programs, a lot of programs working at the same time together. It's a new problem and that means there's very little documents for me to use. That's why my professor said I just need to think and do. Because of this as well I have exams in the form of presentations and answering the questions posed by my lectures, and academic supervisor.
How easy is it to talk with your academic supervisor?
He has a lot of enthusiasm and he helps me a lot. When I don't remember things or when I can't meet with him, he is quick to help me.