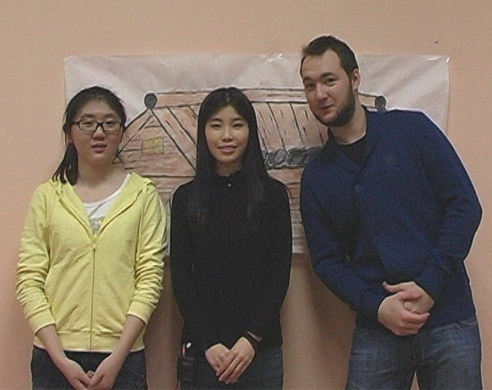 On January 23d, the closing ceremony of the Festival conducted by Lomonosov Moscow State University specifically for undergraduates, master students, postgraduates, trainees learning Russian as a foreign language or non-mother tongue took place.
The ceremony was held in the format of a webinar in the course of which there were videos played that won the online competition, among them the video produced by three international students of TSU Department of Philology: Radim Vozabal from Czech Republic who studies at TSU under the exchange programme run jointly by Masaryk University and Tomsk State University; as well as two girls from China – Tszyuy Chuanya and Chen I. However, they were not the only ones to have taken part in the videoconference – they were backed up by other international students of the Department who came along.
- Among those videos that made it to the final only that of our students was created in the form of dramatic work, - Svetlana Fashchanova, specialist in the work with the Department's international students notes. – The rest were songs, dances, poems read out by the participants both in Russian and in their mother tongue. Besides that, the judges of the competition noted that the Gold Fish fairy tale is indeed very popular in China thus that was the bingo choice.
This year the judges decided not to award a Grand Prix which means that it was really the friendship that won the Third Online Festival of Friendship: Tomsk language specialists as well as international participants from 16 more universities of the country will all get awarded winner diplomas.
It is noteworthy that TSU students have taken part in the competition for the second time. Last year, two of three "our foreigners" became the Festival's winners. In the whole, the TSU Department of Philology has been teaching international students for 20 years now. Agreements of cooperation in education and research have been concluded with universities of Germany, Austria, Italy, China, Kazakhstan, Czech Republic, India, Taiwan, and Poland.