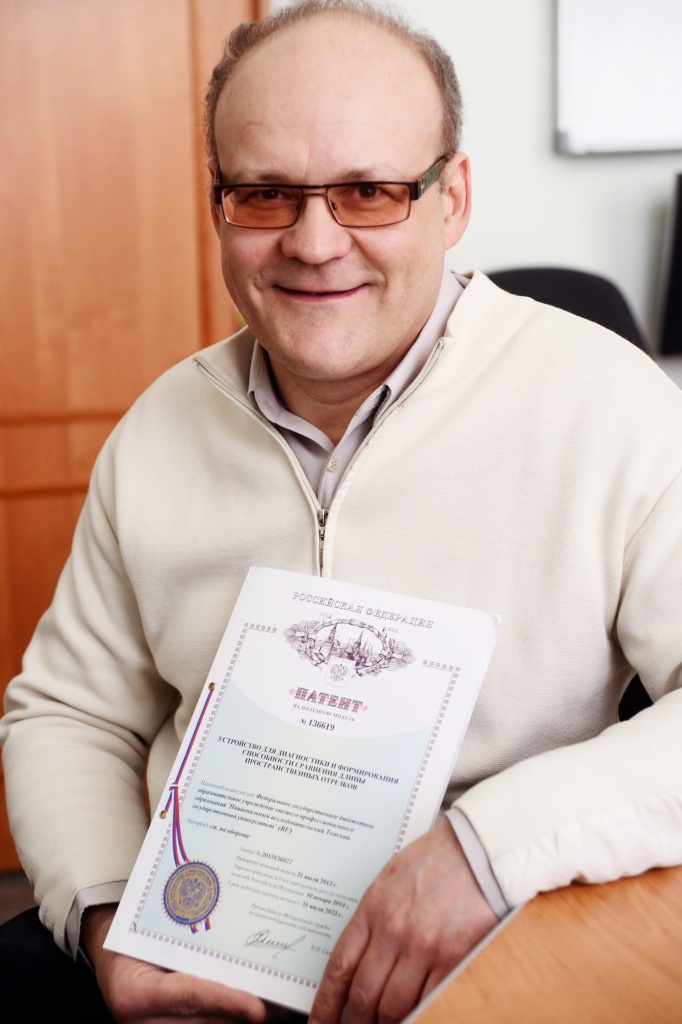 The working group of the Laboratory for Cognitive Investigations and Behavioural Genetics has patented a device for the diagnostics and formation of ability to compare spatial segments. This is the first patent ever received by the TSU Department of Psychology.
The device is intended, first of all, for elementary school teachers and methodologists as well as for researchers in psychology. The working group that developed the device consists of four scholars: Head of the Laboratory for Cognitive Investigations and Behavioural Genetics, Doctor of Psychology Yuliya Kovas; Doctor of Psychology Edward Galazhinskiy, Candidate of Psychological Sciences Dmitriy Balanev and Deputy Director of Institute of Psychology (Russian Academy of Education), Doctor of Psychology Sergey Malykh. The patent received is part of a larger effort to study mathematical abilities of a human being undertaken at the Laboratory.
- It turns out that the potential for the development of these abilities is far from exhausted and it largely has to do with the use of psychological and hardware-based methods for the diagnostics of development, - Associate Professor of Chair of General and Pedagogical Psychology, Candidate of Psychological Sciences, Dmitriy Balanev says. – Our main task is to create simple technology to be able to directly influence basal abilities of a human being. Despite the fact that these abilities are not explicit, they underlie other mathematical abilities and their development can help achieve better results in mathematical education. The comparison of two segments is related to a much broader theme studied at the Laboratory involving the formation of the "number sense" providing for better performance in dealing with mathematical objects.
The device is made up of two rods that can freely rotate around a common centre in several directions. Each rod is marked with a number of movable markers which are used to set different parameters of segments to be compared by a test person.
- With the help of this device one can set different conditions for solutions, and managing them, use a big number of independent variables during an experiment and get objective data on how a test person is solving the task, - Dmitriy Balanev notes. – It is difficult to consider this device separately, as a completely autonomous and separate one because it is part of a bigger initiative: we have submitted several applications and are waiting for relevant decisions to be made whereas a range of new developments has already been started.
It is worth adding that in 2013, Tomsk State University received 52 patents, registered 19 know-hows and got 32 titles of protection for its software products in total.
For your information.
The International Laboratory for Cognitive Investigations and Behavioural Genetics has been established at the TSU Department of Psychology which became possible as a result of the University's victory in the Mega Grant competition under the Governmental Decree #220 "On measures to be taken to involve leading scholars in Russian institutions of higher professional education".