EU Ambassador Markus Ederer and embassy representatives of 18 EU countries met with scientists from the Jean Monnet Centre of Excellence/Center for European Studies TSU - one of the first centers for European studies established in Russia. In addition, delegation members answered questions from Tomsk State University students.
At the meeting, which took place in the conference room of the Research Library, Markus Ederer, the European Union Ambassador to the Russian Federation, noted the activity of Tomsk State University in European studies. TSU is one of the Russian leaders in the number of Erasmus grants - the EU program aimed at supporting collaboration in education, vocational training, youth, and sports.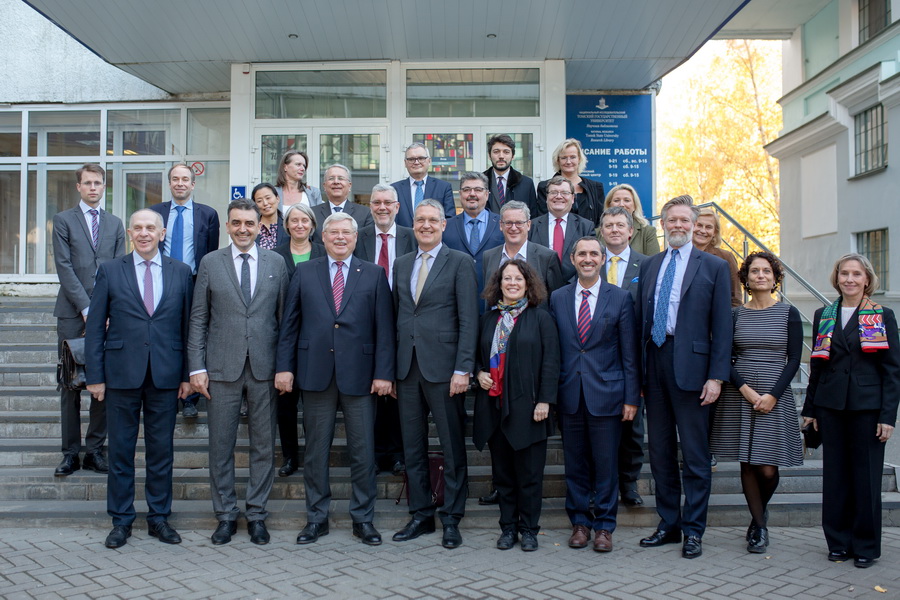 TSU was one of the first universities in Russia to receive a grant to create a Centre of Excellence named after one of the founders of the EU, Jean Monnet. Centre researchers are engaged in studying the experience of the European Union in youth policy and democratic processes to strengthen civil society in Russia at the regional and local levels. Special attention is paid to the situation of young people in Europe and Russia, in order to assess its role in society from the economic, political, social, and cultural points of view.
- We created the center when relations with the European Union were very complicated, however, we actively applied for EU grants and won them. Five projects on various aspects of EU research have already been completed. And for us this meeting is a huge recognition: both as a university that does important and necessary work, and as a separate center on the part of the European partners, - says Professor Larisa Deriglazova, Director of the Centre.
At the meeting, students of the Faculty of Foreign Languages and the Faculty of Historical and Political Science had the opportunity to ask questions to the ambassadors of the EU countries. Despite the limited time, the students were able to learn about educational opportunities in the EU countries and about the priority areas of research.
- It was nice that Markus Ederer noted the public activity of our university, because he and researchers from TSU often come in contact with each other at various meetings. In addition, TSU is the country's most active university in the Erasmus program, - Eduard Galazhinsky, TSU's Rector, summed up the results after the meeting. - We discussed with the ambassador that the next step would be to invite individual ambassadors for more meaningful visits so that they can get to know the university more seriously, meet with the region, bring delegations. As it was with the ambassador from the Netherlands: the delegation that came with him has more than 30 people, including representatives of companies and researchers.
The Rector added that this visit is an important event for strengthening relations between the EU countries and Russia. In addition, this is a unique opportunity for TSU students to communicate with people "who make world politics today".