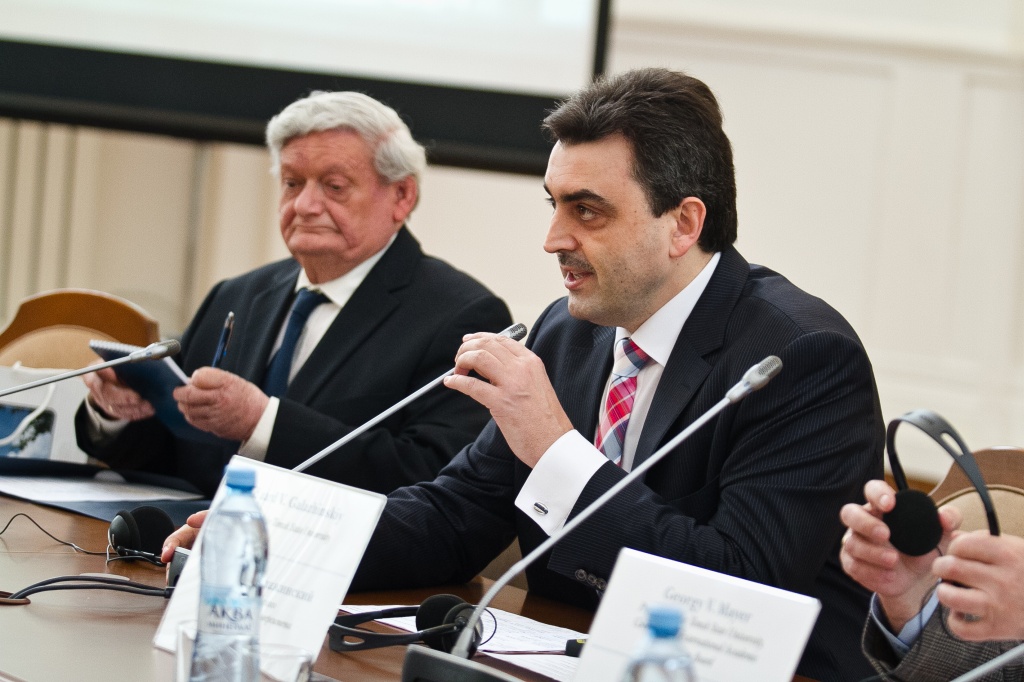 To participate in the TSU strategic session scientists from the world leading universities arrived in Tomsk. Among them Nobel laureate, Professor Terry Callaghan from the University of Sheffield's, professor at Pennsylvania State University Jahangir Pourdehnad ( USA), Professor of Goldsmiths College Department of Psychology Julia Covas (UK), Professor at the University of the Basque Country Eugene Chulkov-Savkin (Spain) and other foreign scientists .
For three days Council members with university leadership , deans , directors and representatives of SRI TSU key laboratories were active . During the session global trends in scientific knowledge and university role in the world scientific community were discussed.
Managers and employees of key laboratories , established under the program improving the university competitiveness, reported about ongoing investigations. The director of the Theoretical physics research center Vladislav Bagrov, director of the Biota, climate and landscape center Sergei Kirpotin , director of semiconductor technologies and materials center Ivan Ivonin , head of the Cognitive Studies Laboratory and psychogenetics Julia Covas told about their work. In addition , director and vice-chancellor for networking Vladimir Demkin make a report about research in the field of high technology in medicine.
Foreign scientists rated high the achievements of TSU colleagues. Co-Chair of the International Academic Council , Nobel Prize winner Terence Callaghan said that the Tomsk State University has a very active and competitive position among Russian universities and may qualify for a worthy place in the world rankings .
The second session day was devoted to discussion of the TSU target model and development strategy and positioning the University for the period until 2020. These issues caused particularly lively discussion.
Today experts from the International Academic Council worked in world-class laboratories . At the evening meeting they presented a document that assessed the implementation of the TSU improving the competitiveness program and set out the advice and their vision of how university can promote itself on a global level .
Council co-chair Terence Callaghan noticed:
- Work is not over yet and even after we come back in our countries , we will continue to communicate with the Tomsk State University . Each member of our Council can become a goodwill ambassador and help to promote the university in the direction where he or she had succeeded greatly .
- It was very interesting to know, when we came here , how the Tomsk State University is ready for changes if it has enough reserves for this , - said in his speech , Professor of San Paulo University, Dmitry Gitman . – Visited TSU, I realized that it ready for transformations . And I want to thank the university leadership and our Tomsk colleagues for the sincere atmosphere in which we worked this three days . I think that your university has a great future.
TSU Rector Edward Galazhinsky thanked the Council experts for their work.
Dear colleagues , I admit that the results have exceeded my expectations - he said. - I waited for critical evaluations and useful tips. But we got so much more. I am touched by your interest in the University fate and your immersion in its life. I know how busy you are, so I want to thank you for TSU visit. All that you invested in university is priceless. We found a lot of mutual perspectives . There is a feeling that we formed a team of associates . Teams like this is to advance our science forward .
At the end of the meeting Edward Galazhinsky presented to all members of the International Academic Council memorable gift - a silver medal, made ​​for the university anniversary.