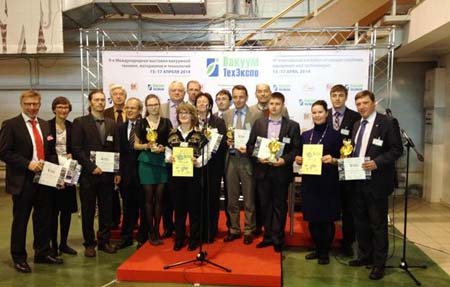 Moscow hosted the 9th International exhibition of equipment, materials and technologies "VacuumTechExpo " 2014 in Congress and Exhibition Center "Sokolniki". Tomsk State University took part in the exhibition for the first time and was among the winners of the contest "Best Innovative Product in high-tech ". Complex of vacuum-plasma technology and equipment for improving the surface properties of the products of various industries was marked by award.
This work was performed in the TSU "laboratory of nanostructured surfaces and coatings" created by RF Government Resolution № 220, led by Professor Eugene Chulkov - Savkin and also under FCPK "Research and development on the priority directions of scientific-technological complex of Russia 2007-2012" , R & D " Creating the multilayer and gradient thermally stable coatings in a single technological cycle " under the guidance of Professor Alexander Korotaev (physical department ) .
Authors:
Dmitry Borisov , Alexander Korotaev , Vladimir Kuznetsov, Yevgeny Chulkov-Savkin , (physical department)
Reference. " VacuumTechExpo " - the only exhibition in Russia and the CIS, completely dedicated to the vacuum equipment and technology of its application.
For nine years , the exhibition has gained a reputation as one of the most popular and important industry event that reflect future trends in the development of vacuum equipment and technology. The exhibition attracts investment and promotes the establishment of new business contacts , the formation and implementation of national and regional programs in this area .
In 2014 the exhibition was attended by leading Russian and foreign manufacturers of vacuum equipment, machinery, apparatus, vacuum furnaces, installations and systems for vacuum creation from Russia, USA, Czech Republic, Germany, Ukraine, Belarus, Slovakia, Latvia, the UK and China.