A moneybox monument to raise funds for homeless animals, the first in Tomsk, has been installed near TSU's Parus dormitory. The top part of the monument is removable so that organizers can take out the collected money. This will happen on the fourth day every 3 months, and the allocation of funds will be the responsibility of a special commission.
- Today, students want to solve problems existing in society. We were inspired by the experience of other cities where such moneybox monuments are operating successfully, and we hope that it will become a symbol of help to homeless animals in Tomsk, - said Polina Smirnova, a TSU student and the organizer of the project. - It took almost 2 years to come from the idea to the real result. The monument is unique for Tomsk. We hope to start a new tradition of patronage, when people just walking around the city can do a good deed.
The moneybox will operate on a regular basis because the organizers are sure that it is not one-time help that is needed, but it is a long-term project that can help many animals.
At the base of the monument there is a stylized hatch with a hole, where you can add money; it is protected from rain and snow. To control the distribution of collected money, a special commission was created, which includes four Tomsk zoosecurity organizations - Commonwealth, Friends of Animals, Zoosecurity, and Charity and Mercy. They will decide whom to transfer funds to and for what needs. All information (checks, transfers, and reposts) will be published in the official group of the project.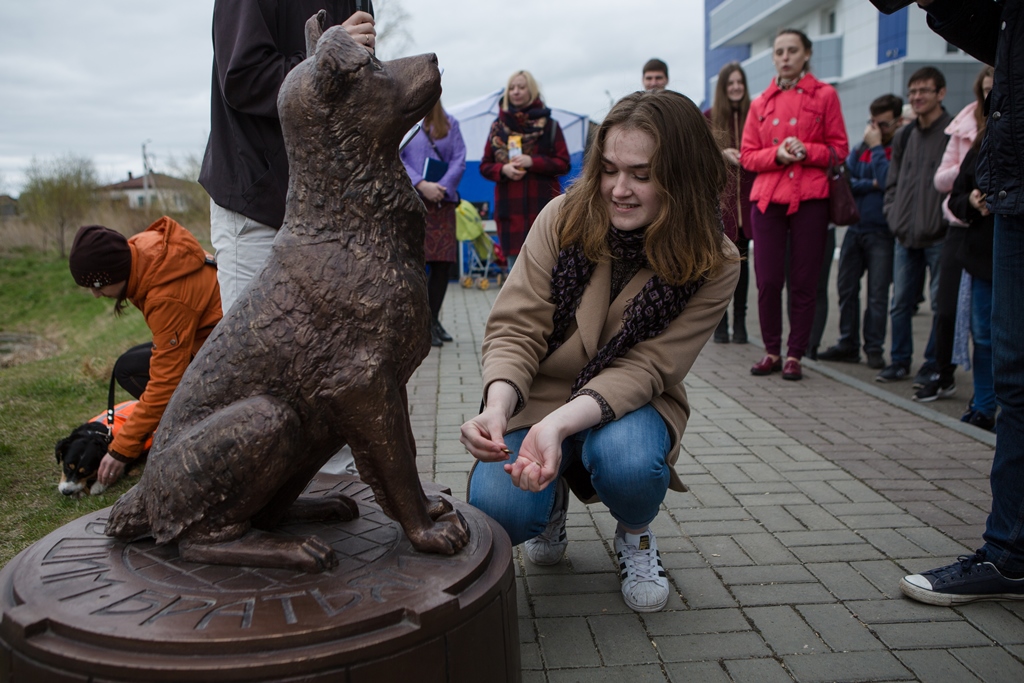 - On behalf of all animal rights activists, we want to say a big thank you to TSU students and to all participants of the initiative, - noted Maria Murkina, a commission member. - It's great that young people think about the future of homeless animals, and such a wonderful monument appeared in our city. We hope that we will receive from it not only material assistance – it will also promote a responsible attitude to animals.
One of the guests was the dog Marco Polo, ward of the animal welfare organization Friends of Animals. It was he who chose the one who first put money in the monument.
The moneybox monument is made in Orenburg from cast iron, and it weighs about 200 kg. The "face" of the project is the dog Daniela, who lives in the animal shelter of the Zoo Defense Organization Commonwealth.
The campaign to raise funds for the installation of the monument started in the spring of 2016. Since then more than 1,000 people took part in charity events. The volunteers held 3 charitable concerts, collected 3 tons of waste paper, and also sold more than 700 lots at the online auction. In addition, 20,000 rubles were collected through an online moneybox, and the project received 65,000 rubles at the university competition Best Youth Projects. In total, volunteers collected more than 400,000 rubles.