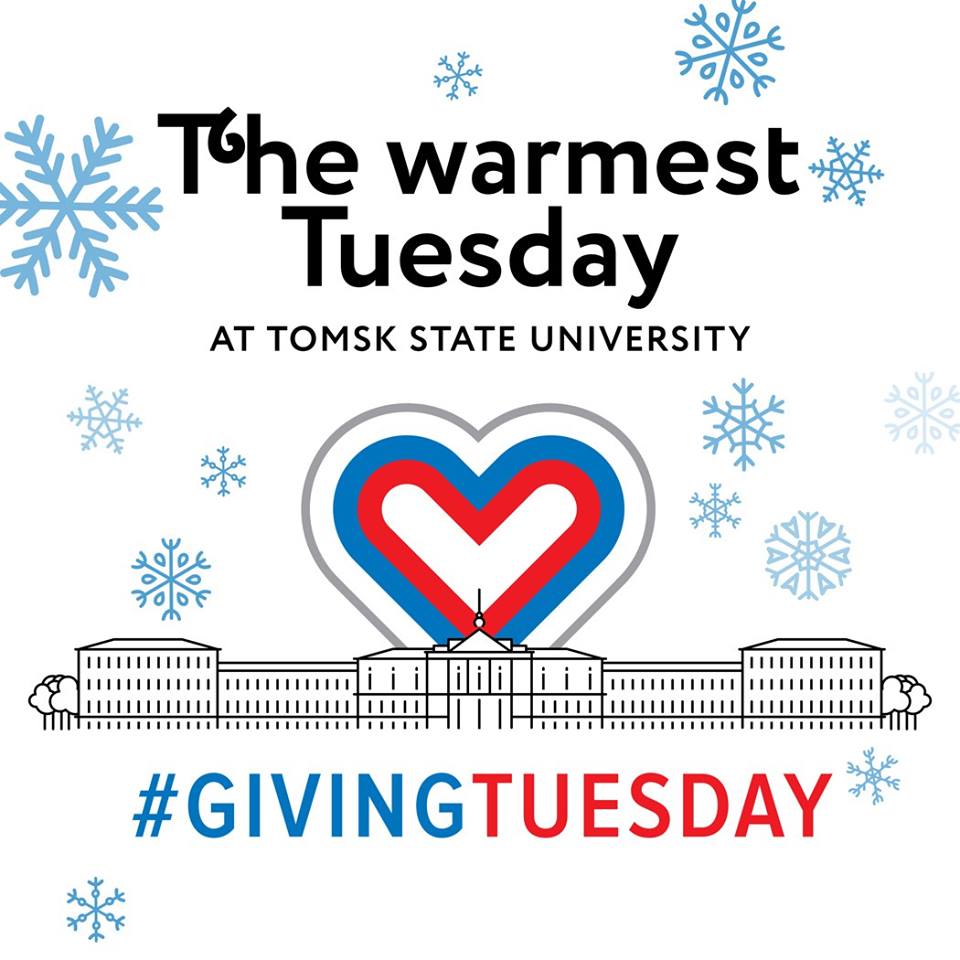 TSU has become a partner of #GivingTuesday, a public initiative to promote philanthropy. The campaign will be in Russia for the first time on November 29. As part of #GivingTuesday, TSU students will organize the collection of recyclable materials and a free exchange of things.
-#GivingTuesday is a great opportunity for us to draw people's attention to social problems, including the problem of waste disposal, - said Vladimir Maksimchuk, the head of the environmental department of the TSU student volunteer organization Initiative. - To do this, we will hold two actions at which Tomsk citizens be able to give a second life to things that they don't need anymore.

The first event is Free Market. It will be held on November 29, from 15.00 to 19.00 at the TSU Cultural Centre. At the free market, anyone can bring unneeded things - clothing, stationery, books, and others and leave them with volunteers. In addition, participants will be able to choose some favorite things from the existing fund and take them for free.

The second event, Ecological Marathon, is associated with the coming Year of Ecology. It will last four days, from November 24 to 29. Two containers for the collection of recyclables will be placed at the TSU Cultural Centre. One of them is intended for plastic, another one is for waste paper. Every day, volunteers will check the contents of the containers, and then all the collected recyclables will go for refining with the help of the company Clean World, the partner of the action.

To properly prepare materials to take for recycling, it is necessary to rinse them from food residues and dirt, dry them, reduce and crush everything that can be, put them in a bag, and bring them to the marathon. Plastic products marked 1, 2, 4, 5, 6, in the triangle on the packaging are allowed for recycling. The waste paper should be tied in string or put in a bag or box.

TSU has already held two actions for the collection of waste paper in support of the installation in Tomsk of the coin boxes monument for homeless animals. Almost a ton of waste paper was gathered. Now everyone can take part in the third action.
The public initiative #GivingTuesday was created in 2012 and has spread to 72 countries around the world.

#GivingTuesday harnesses the potential of social media and the generosity of people around the world to bring about real change in their communities; it provides a platform for them to encourage the donation of time, resources and talents to address local challenges. It also brings together the collective power of a unique blend of partners— nonprofits, civic organizations, businesses and corporations, as well as families and individuals—to encourage and amplify small acts of kindness.