Faculty of Informatics
The Faculty of Informatics (the Informatics education and research centre before 1992) was established in 1986 merging the FAMC Department of Programming and Informatics, the EF Department of Economic Cybernetics, the SPhTI Laboratory of Computing Systems, and the TSU Computational Centre.

RESEARCH AREAS
Geo Information Technologies
Investigators of Informatics Department and the "Sibgeoinformatics" innovation enterprise form a leading research group in this area in Russia. They have carried out a number of large complex GIS projects on urban development and urban construction design, land use and development, mineral wealth management, and industrial geoinformatics. The clients are the administrations of Tomsk city, Kemerovo and Tyumen regions, and Krasnoyarsk area as well as large industrial companies. The group are active participants of GIS forums and collaborate with leading fellow researchers in Russia, USA (ESRI, Oracle, Sun Microsystems) and Great Britain (ERDAS). When the Resurs-1 Satellite ground station was put into operation in 1998, the geoinformatics research acquired a new facet - space monitoring data processing.
ERM Model
The research aims to improve and perfect database schemas semantic design, which would allow for software semantics to be determined and fully formalized once and at the initial analysis stage of software development.
The research resulted in the Entity- Relationship-Mapping (REM) Model, which routes the ER-model development further into detailed description of principles of software, essential practicable architectures remaining and new effective elements to enhance the model expressive power introduced at the same time.
Distributed Computer Systems and Networks Analysis and Optimization
The research focuses on functional models, analysis and optimization of distributed computer systems and networks.
Computer systems and networks functional modelling involves models of network structures and computer elements, including:
closed models of inter-node connection;

open models of data transfer units in the form of two-unit network fragments;

open models of a multi-unit data path;

stochastic models of pipeline information transfer mechanisms;

discrete random contention multi-access models;

computer system multi-level memory models, which determine the relation between cache memory association and depth characteristics and computer operating speed parameters.
Computational Geometry and Computer Graphics
As early as in 1970s, graphical output systems for M-220 and UCS plotters were developed at TSU.
At present, new algorithms to build flat and spatial graphical objects and images and graphical search algorithms are being designed and analyzed by the group. Primarily, the investigations concern solutions to complex problems in computational geometry through algorithms of various triangulations. The scope of research also extends to new efficient routing algorithms and algorithms for raster graphics object recognition and object recognition via exact coordinates obtained, for example, from laser terrain scanning. The algorithms under research are used in geo information systems for terrain modelling and its further assessment, optimal route calculations on road networks, and for many other purposes.
Departments:
Department of Foundations of Theoretical Informatics (Chair A.L. Fuks)


Separated from the Department of Programming and Informatics in 1989 as

the Department of Informatics

(till 1992).

Department of Applied Informatics (Chair S.P. Sushchenko)


Opened in 1986.

Department of Economic Cybernetics

till 1992

Department of Software Engineering (Chair Prof. O.A. Zmeyev). Opened in 2006.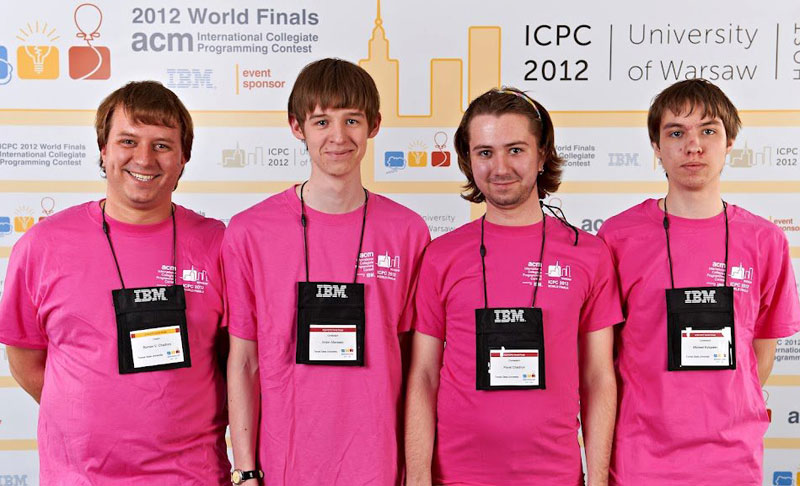 Programmes and Research Areas
02.03.02 Computer Science and Information Technologies. Bachelor's Degree.
Concentrations: Systems Programming. Network Technologies
Graduates will have fundamental knowledge in computer science and the skills to design complex software systems to qualify for a variety of careers in organizations involved in design, development, and application of information technology systems, products, and services, such as educational institutions, commercial and industrial companies, financial banks, and research centres.
02.03.03 Software Engineering and Administrating. Bachelor's Degree

Concentrations: Information Systems and Databases. Information Systems Administrating

Graduates will be prepared to design and optimize complex computational global and local network structures. The skills to administrate various computer systems open up opportunities to pursue a career in organizations utilizing network technologies.
09.03.03 Applied Computer Science. Bachelor's Degree
Concentration: Applied Computer Science in Economics
Along with the proficiency in computer programming, graduates will have a comprehensive knowledge of production economics, economic statistics, financial accounting and audit, mathematical modelling in economics, economic information systems, business planning, and securities market functioning. They are in demand in any economic institution and often become business owners.
09.03.04
Software Engineering. Bachelor's Degree
Concentration: Software Engineering
Students obtain a wide range of competences in the field of software analysis, design, and development. The array of the programme disciplines includes object-oriented analysis and design, software development project management, databases, web programming and goes beyond; and the range of prospective job titles includes analyst, architect, developer, systems integrator, quality engineer and many others.