"Inner Estonia", a project on the life of Estonian immigrants in the Tomsk Region, won first place at the Student Design Contest, which is being conducted by the University of Michigan (USA). The work of TSU students won the nomination for Digital Storytelling.
"Inner Estonia" is a series of reports, interviews, multimedia, and photo stories about the life of the village of Berezovka, 200 kilometers from Tomsk. The village has a second, Estonian name - Kasakyula. Most of its inhabitants are descendants of immigrants from Estonia.

In November 2016, fifteen journalists students went to Berezovka to see with their own eyes how the Siberian Estonians preserve their culture and tell the world about the history of the village, its daily life, and the people who live here.

Such expeditions are conducted by the Faculty of Journalism's project "Tomsk Reporter" in conjunction with the newspaper Alma Mater Project. Their goal is to teach students reportage and field journalism in real conditions. The project attracted special interest from international students of the Faculty of Journalism, photographers Jakob Schnetz and Roman Pavlovsky from Germany, for whom the expedition was their first acquaintance with the life of a Siberian village.

- The reporters must see the lives of those they are writing about, - says project manager Galina Saharevich, a teacher at the Faculty of Journalism and a correspondent for the Alma Mater Project. - During the expedition, they visited the cemetery and the garage, the museum and the disco, the cafe and the boiler room; they looked at how blood sausage is made and Estonian mittens are knitted, saw the books of the 19th century, and heard old songs in Estonian. We went to dozens of houses, and if in the beginning, the residents were afraid of communicating with journalists, then at the end of the expedition they were upset if we did not pay attention to them.

In addition to personal observation, filming, and interviewing, journalism students collected scientific materials on the history of Estonian settlers and met with experts on history and ethnography.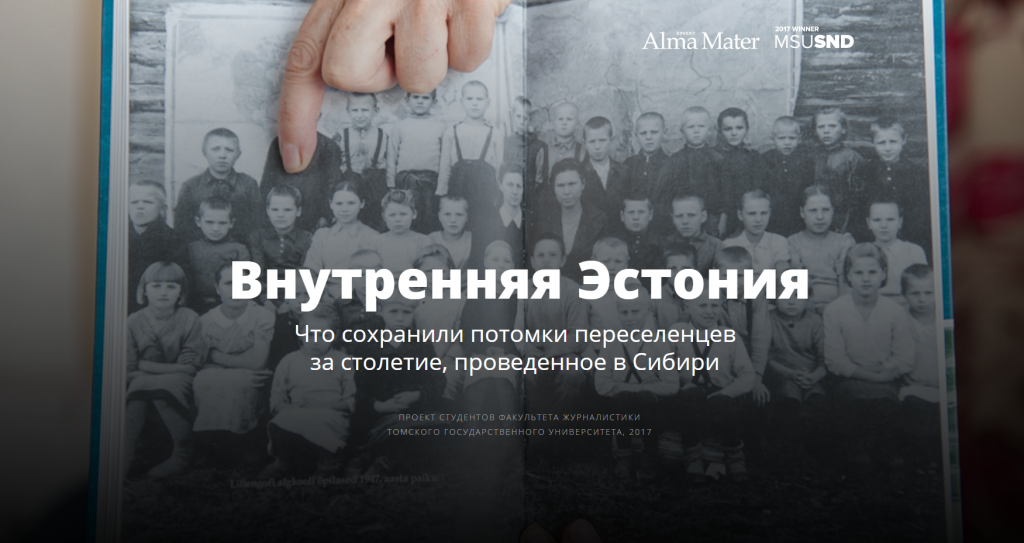 After returning to Tomsk, the authors of the materials edited them for several months and released an electronic edition. Today, readers can find all the materials of the project at http://siberia-estonia.ru/ and learn about the history of the village and view its map in detail to study the features of everyday life, for example, infographics on the traditions of house building or recipes in the national cuisine.