TSU had an open introductory conference dedicated to the modeling of a session of the UN General Assembly. The organizer of the event was Lola Rouze, a master's student in the Department of International Relations. She spoke about the goals and practical benefits of the UN Model and shared thoughts about her future in Russia.
The master's student explained that the UN Model is an extracurricular activity in which students act as delegates to the United Nations and imitate the work of UN committees. Students discuss international problems - for example, this session will be devoted to the nonproliferation of nuclear weapons. According to the rules, participants must represent a country, write a resolution, prepare a speech for the conference, and take part in the debate.

- The UN model promotes the development of communication skills among young people in discussing topical and complex international problems and working out compromises that are necessary for any citizen in modern society,- noted Lola. - In addition, as a reward, participants will receive formal recognition at conferences, a certificate, and an opportunity to become Deputy Secretary General at the UN Model session.

After the introductory lecture, Lola answered questions from students and distributed questionnaires through which the organizers will be able to learn personal information, the level of English, and the desired role of the participant at the UN Model session.

After the end of the official part, Lola said that it is necessary to develop this program in Russia - it is useful for Russians, because it is, first of all, an opportunity to practice a foreign language, and participants are able to practice written and oral communication skills using political vocabulary.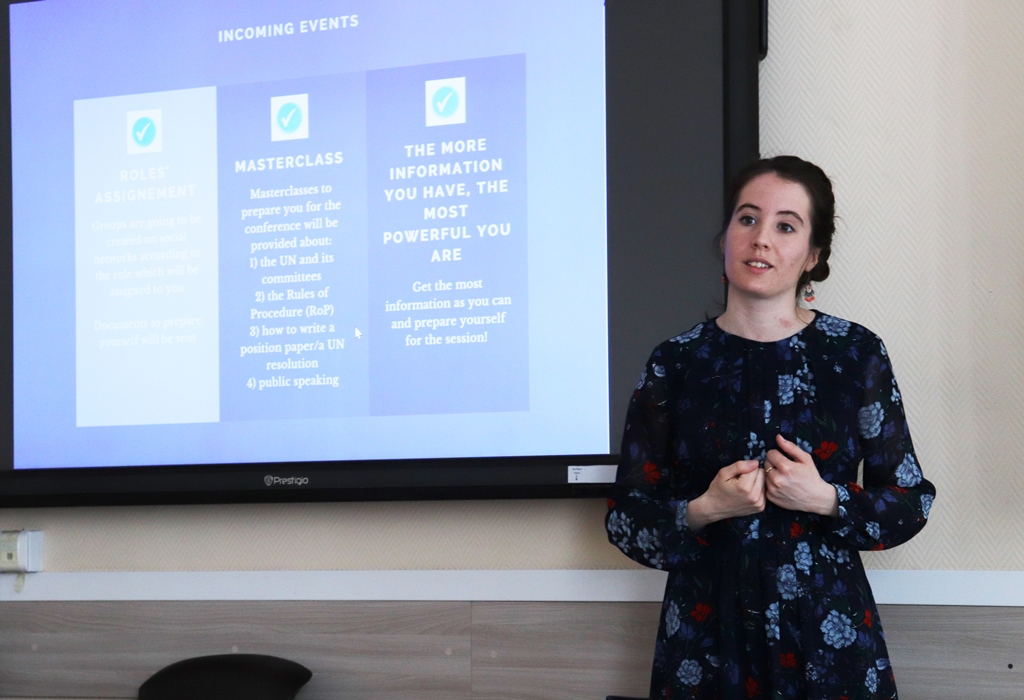 You can contact Lola Rouze with questions on the model session of the UN General Assembly by e-mail lola.rouze@gmail.com or in social networks: Facebook (Lola Rouze) or VC (Lola Rze).

On Monday, June 25, the opening ceremony and registration of participants will take place from 16:00 to 16:30 in the Research Library. On Tuesday, June 26, throughout the day, debates and negotiations will be held, and by the end of the second day of work, participants will submit a resolution.