19 old guns were given to armory room of the TSU Research Institute of Applied Mathematics and Mechanics that holds more than a hundred weapons of the First and Second World War. Among them, there are exhibits that were released by well-known manufacturers of weapons in Russia.
- The exhibits were handed over at Tomsk State University by different people in the nineteenth century and were preserved at the Museum of Archaeology and Ethnography of the Siberia named after VM Florinsky, - says Evgeny Barsukov, head of the museum. - At the beginning of the Great Patriotic War historical exhibits were sent for storage at the TSU Institute of Military Education. Recently, they were handed over at armory room of the Research Institute of Applied Mathematics and Mechanics. In the future, the samples can be presented at the exhibition in our museum, but it is necessary to create conditions for their storage.

The exhibits of the old collections were brought to Tomsk from different parts of Russia. For example, a flintlock with stands (bipods) was acquired in the Minusinsk district of Yenisei province from the nomadic people - saygayk foreigners.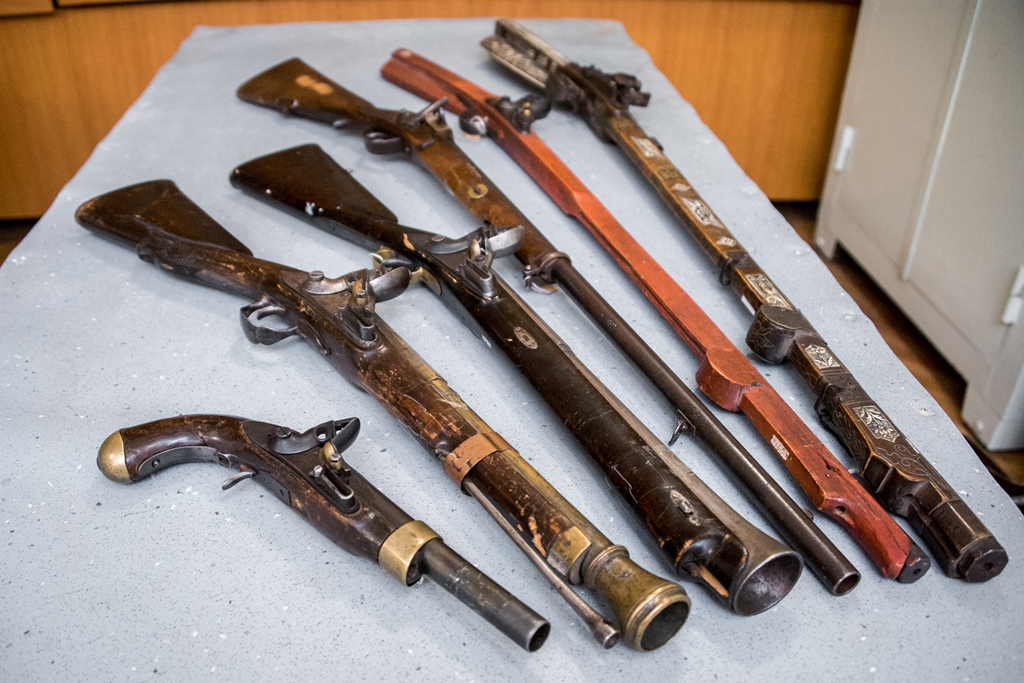 Some samples were made by known arms factories, including Izhevsk, Tula, and Gusev. The last belonged to by brothers Ivan and Andrei Batashevs, who were the owners of semi- dozen factories, famous for the production of a first-class cast iron and were the supplier of weapons for the Admiralty Board - the highest governing body for the naval affairs in Russia. In 1891, a silicon musket of Gusev factory was purchased at the Tomsk market and was presented by Stepan Kuznetsov, a librarian of the TSU Research Library to the Museum name after VM Florinsky.

The only old gun in the collection, most likely, was made in 1853 - such label has its copper-framed wooden handle. It is known that in 1938 a Tomsk school student Vadim Mashinsky gave it to the museum. Two ancient guns were brought to TSU by scientists from ethnographic expeditions to Mountain Shoria and the north of the Tomsk Region.

There are some samples in the weapons collection about which are known very little, for example, a gun with inlay of bone in the form of an oriental pattern. So currently the staff of the Museum of Archeology and Ethnography of the Siberia is studying ancient artifacts to return them their past.