For the first time, the TSU Faculty of Historical and Political Studies held a competition, "Russian Poetry without Borders", among international students. Students from China, Mongolia, Indonesia, Palestine, Laos, and Turkey performed works by Rozhdestvensky, Tyutchev, Asadov, Akhmatova, Tsvetaeva, Yesenin, Pushkin, and other Russian poets.
The Faculty of Historical and Political Studies includes 111 students from 14 countries: Bulgaria, Vietnam, Indonesia, Cyprus, China, Colombia, Congo, Laos, Mongolia, Palestine, USA, Turkey, Uzbekistan, and Ecuador. The faculty implements two undergraduate programs for international students - Resource Potential of the Siberian Region and Business Communication and World Politics Studies. The guests of Tomsk study anthropology and ethnology, foreign regional studies, history, regional studies of Russia, international relations, and political science.
- The faculty's staff conducts comprehensive work with international students. In addition to a large number of hours in English and Russian, we offer several types of practice, such as orientation practice, obtaining primary professional skills, and speech communication. Our teachers talk about the cultural features of Russia, about the economy, politics, and history of our country, and the features of the infrastructure of Tomsk, - said Tatyana Andreeva, the acting head of the Department of International Business Communication.
Every month, the faculty holds extracurricular activities that contribute to the adaptation of international students in Russia - quizzes, a dialogue of cultures, and excursions. At the same time, students are immersed in an environment where they use both English and Russian. Teachers do not leave students alone in an unfamiliar country. In each group, there are mentors from among the teaching staff who work with international students and help to do homework and solve everyday problems.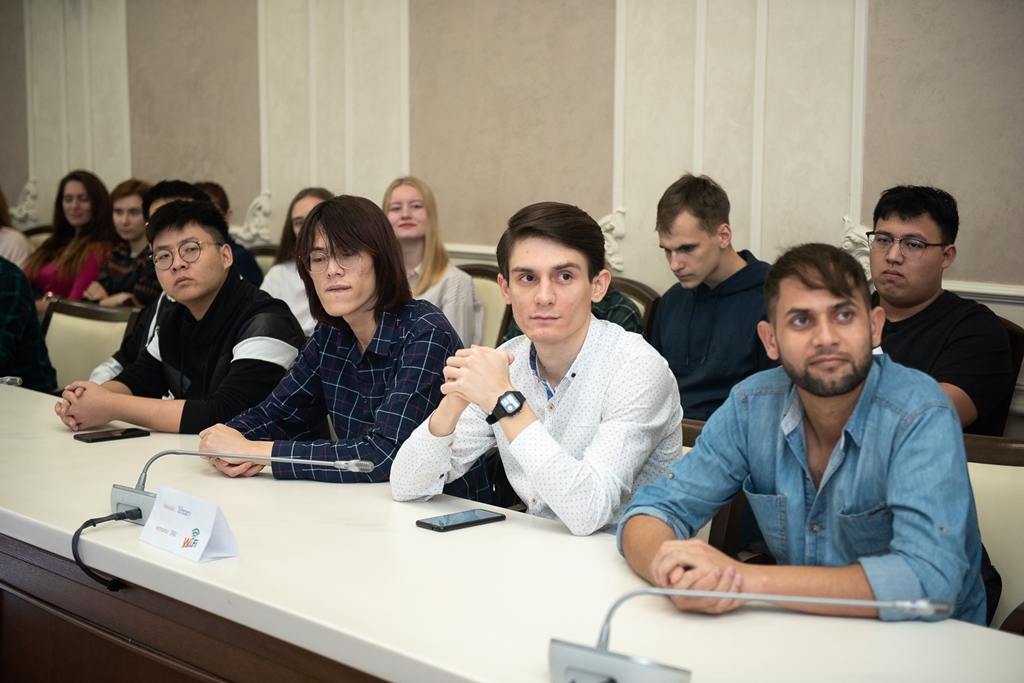 One of the participants in the competition was Hu Shenen, a sophomore from China, who studies Russian regional studies and is one of the best students in the group. Hu Shenen read a poem by Marina Tsvetaeva, "Communication through Dreams".
- Russia is a large country, close to China, so I chose it. Coming to Tomsk was fate. I immediately fell in love with this city. It is small and very quiet, I like it. Learning is difficult because of the language, but the teachers help, and I found many Russian friends: they help me learn Russian, and I help them learn Chinese. When I finish my studies at TSU, I plan to become a businessman, - said Hu Shenen.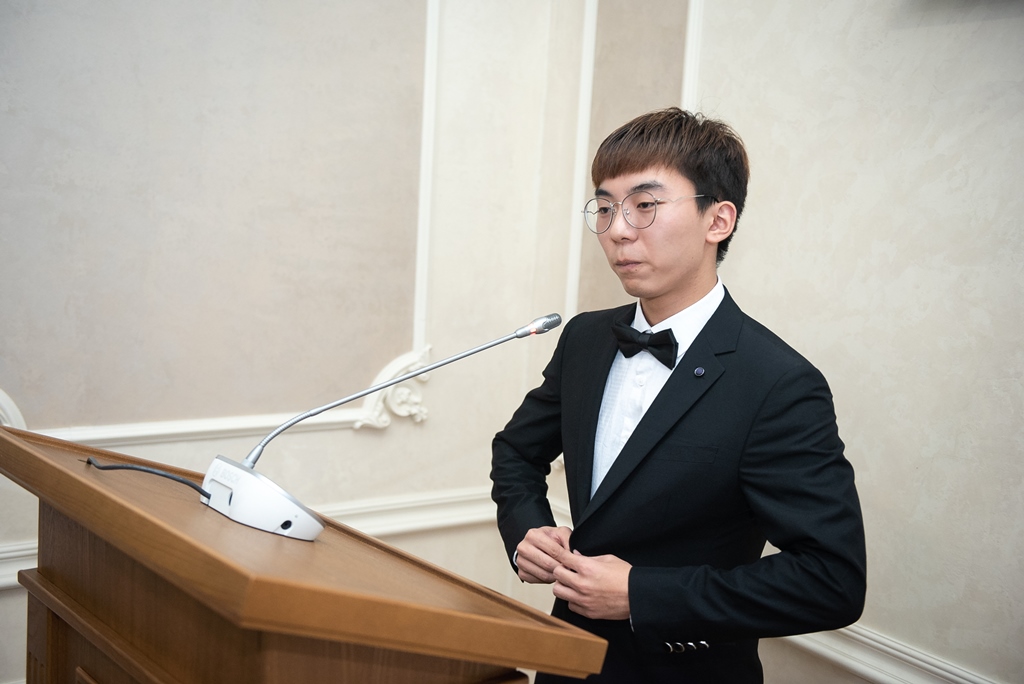 Sofia Mardapitta came to Tomsk from Cyprus. Her mother is Russian, and her father is half Cypriot and half English. Sofia is studying in the 2nd year in International Relations in a group with Russian students. She has a black belt in taekwondo and a certificate in deep diving and is also professionally engaged in gymnastics.
- I did not plan to study in Russia, I wanted to go to Europe and learn Chinese. But in Europe, there was no Chinese, and my mother advised me to go to Russia. The choice was between Moscow State University and TSU, and I decided to try in Tomsk because Moscow is too big a city, - said Sofia. - My grandmother lives in Tomsk, and I was here when I was little, but I don't remember anything. When I arrived last year, in October it was beautiful, but then it suddenly snowed. I had a cultural shock.
Sofia said that in Cyprus she studied Russian with her mother, so she arrived in Tomsk already prepared. She was surprised that the people in Russia, although friendly, were rather closed.
- The second language that I study at the faculty is German. I translated from Chinese because I realized that it is better to learn at your own pace. I was lucky because two Chinese women now live with me, and I still learn this language, - said the student. - It's difficult to learn - the most difficult subject for me is philosophy, and the easiest is English.
Ahmed Alkhaldi came from Palestine. He received his first education - document management - in his homeland, and then, on the advice of a friend, he came to Russia and began to study anthropology and ethnology. His native languages are Arabic and Hebrew, and he also speaks fluent English and Russian.
- I chose anthropology and ethnology because it is interesting to me. I am the first international student to start studying in this area, and the only international student in the group, - said Ahmed Alkhaldi. - Teachers give a lot of information and tasks: per week I do 3 reports and essays. Palestine has a different education system, it was difficult to readjust, but I'm used to it in the third year.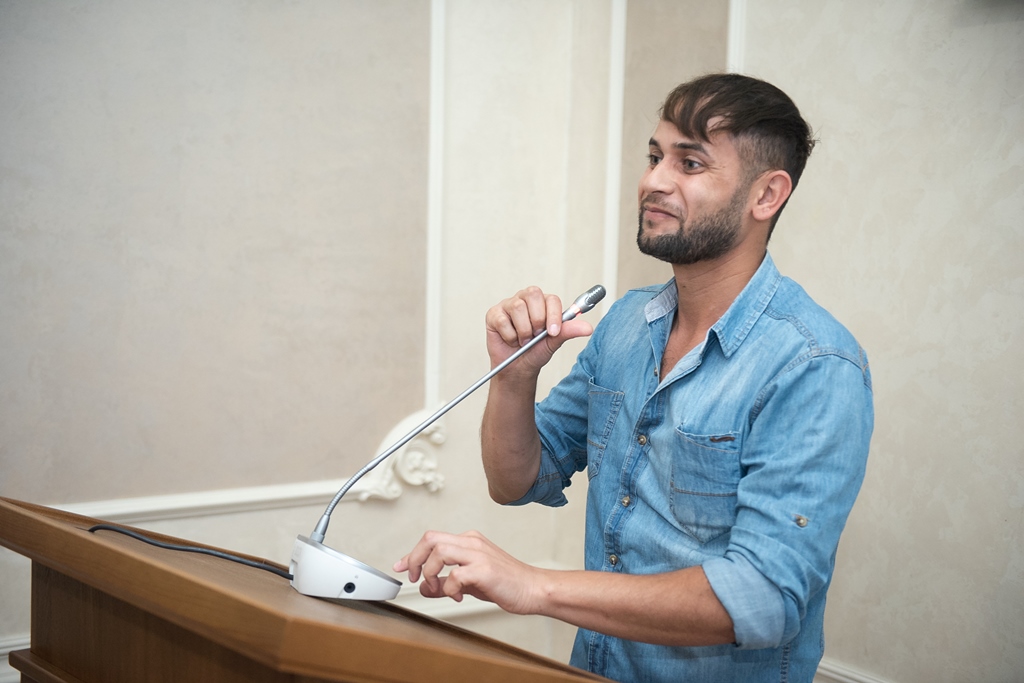 Like Sofia, Ahmed Alkhaldi noted difficulties in communication.
- In the first year, it was difficult for me to make friends with someone, and it was strange. I even wanted to stop my studies and go home, but the staff talked to me and I changed my mind - it was a good choice. I have friends now.
In the future, this student wants to develop visual anthropology at the TSU Faculty of Historical and Political Studies: the study of films and photographs as the historical heritage of different cultures and the documenting of traditions and customs of peoples with video and audio tools.