The academic year at the Pre-courses Department has been completed. More than 80 students from 17 countries successfully mastered the programme for admission to the Russian universities and received certificates.
- This programme allows us to expand the boundaries of the university because many students around the world are interested in studying the Russian language at our university. On the map of TSU's student community are Great Britain, France, Laos, Vietnam, Indonesia, China, and many other countries, and we do not plan to stop there, - says Nina Alekhina, a specialist in educational and methodological work of the Pre-courses Department.
Preparation for admission to a university for students from other countries lasts one academic year. During this time, everyone attends classes in the Russian language and in three specialized subjects according to the chosen specialty. In 2016/17, the Pre-courses Department offered the students five directions: medical and biological, natural science, engineering, humanities, and economics.
- Since childhood, I have admired Russian culture and the country as a whole, - says Atkasayavong Somlihit, a student from Laos. - And my dreams came true - now I can study in Russia! Thank you for this to our teachers and the University.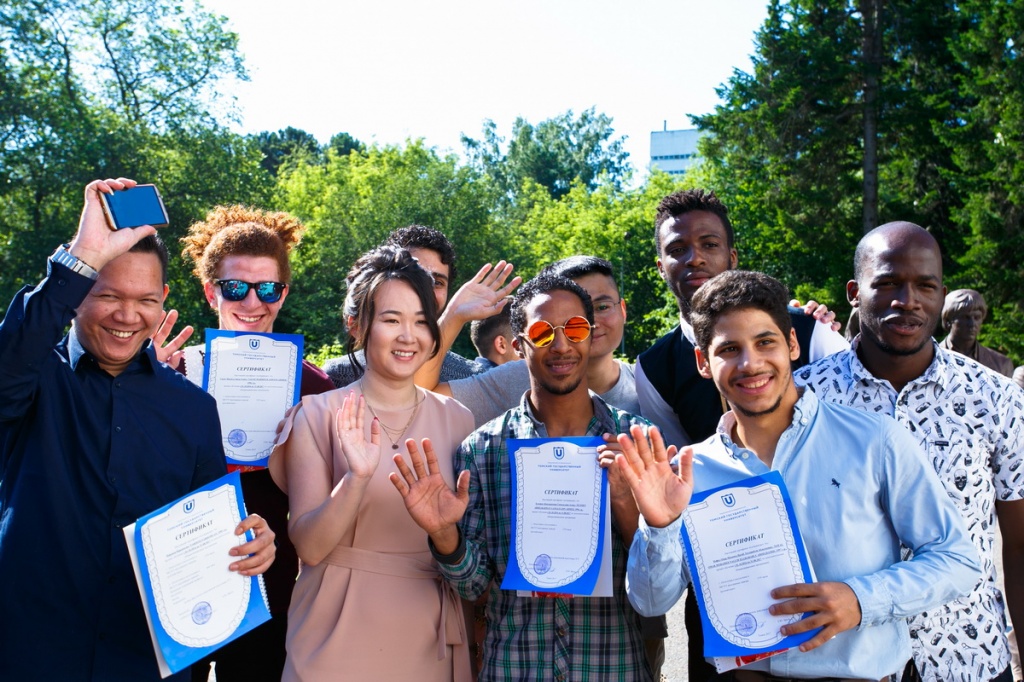 Now, when the training course is completed, the main goal of the graduates is to enter Russian universities. Solemn presentation of certificates and a concert programme prepared by students and teachers were a bright starting point on the way of these young people to good higher education in Russia.
Teachers of the Department proudly note that while choosing among the vast variety of universities, their students do not want to leave the walls of their first Russian alma mater. Last year, out of 37 graduates, 20 international students entered TSU. This year the audience was more than doubled, which means that the number of entrants will also grow.
You can learn about the courses and summer schools of the Pre-courses Department here: http://dovuza.tsu.ru.