The theatricalized procession of TSU students and teachers along Lenin Avenue, the central street of Tomsk, became the largest-scale event in TSU's 140th anniversary celebration. The jury of representatives of all faculties chose the best column, and the Cup of the Imperial University went to the Institute of Applied Mathematics and Computer Science.
The university procession in honor of the TSU birthday has been an annual event since 2003. This jubilee year, about 6,000 people marched in the procession. The movement of the TSU procession through the city was opened by the university administration, headed by Rector Eduard Galazhinsky.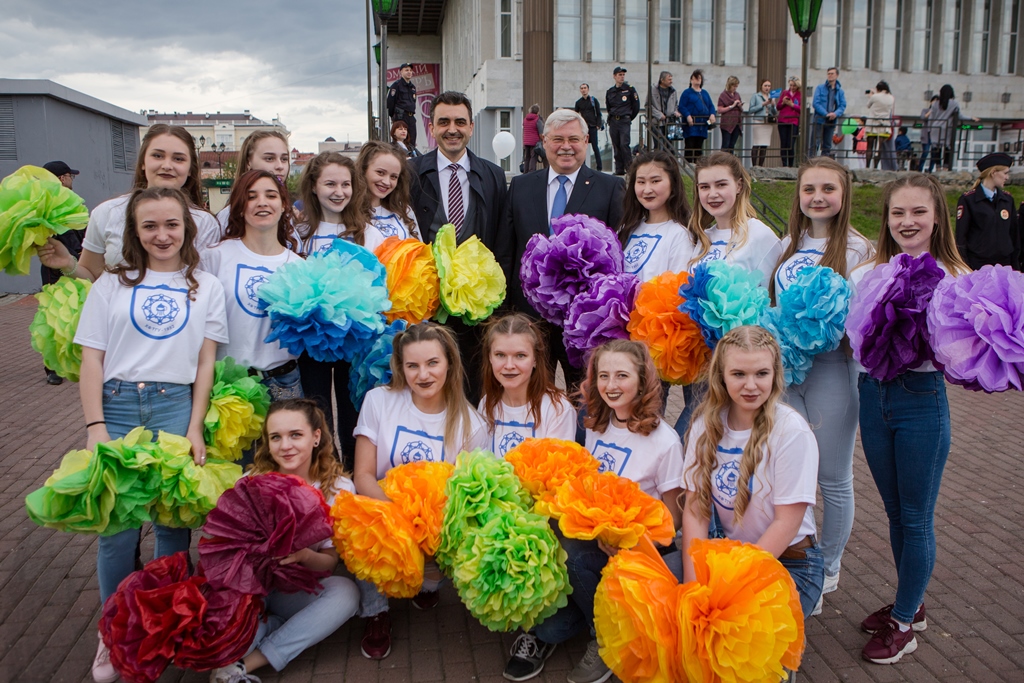 Each faculty prepared a mini-performance for the festive procession. This year the common idea of the event was "The University of the Past, Present, and Future through the Eyes of a Modern Student." The jury evaluated the costumes of participants, the coherence of actions, mass character, sound design, and realization of a common idea. Students acted in the style of the style of the 40s and 50s, with avant-garde artists, aliens, Pi numbers, and much else.
By the decision of the jury, the winner was the Institute of Applied Mathematics and Computer Science, whose students wore the dress of many nations of the world. The Institute received the Cup of the Imperial University, which will stand on the central staircase of the main building under the clock for the next year.
- The members of the jury gave the column of the Institute the maximum score on almost all criteria. The students, along with the teachers, did a great job of preparing the procession. I congratulate the IAMCS and wish it to proudly bear the title of the winners of the Cup of the Imperial University! - said Vyacheslav Dil, the Head of the Department of Social and Youth Policy, chairman of the Trade Union organization of TSU students.
The University Cup is a new tradition, and every year the Rector will solemnly award it to the faculty that does the proposed task the best.