TSU scientists have proposed a new method for producing composite "slippery" AlMgB14 ceramics (aluminum-magnesium-boron). The hardness of the composites is 40% higher than in samples without the additives, and the friction coefficient is almost twice as low as that of lubricated polished steel. Refrigerators, air conditioners, and other equipment with accessories made of slippery ceramics will make less noise and last longer, because the friction of parts will be less.
At the first stage, the team of scientists received samples of the material, whose properties corresponded to foreign analogs - high hardness, 32 GPa, and low coefficient of friction, less than 0.07. At the same time, 97% AlMgB14 compound and 3% impurities were in the samples. Based on them, scientists developed composite material. They added titanium diboride to the "pure" AlMgB14 and the hardness of the material increased by 40%.
- We proposed a new method for producing composite materials based on AlMgB14: powders are created using self-spreading high-temperature synthesis, and then using spark plasma sintering we obtain a sample of slippery ceramics, - said Ilya Zhukov, head of the TSU Laboratory of Nanotechnology Metallurgy. - Thanks to the new method, the hardness of the material has increased significantly up to 46 GPa. This is higher than that of foreign composite analogs and is more than half the hardness of diamond. In addition, the coefficient of friction remained low - almost twice as low as that of lubricated polished steel.

In addition, spark plasma sintering reduced the porosity of slippery ceramics: scientists obtained almost zero indicators.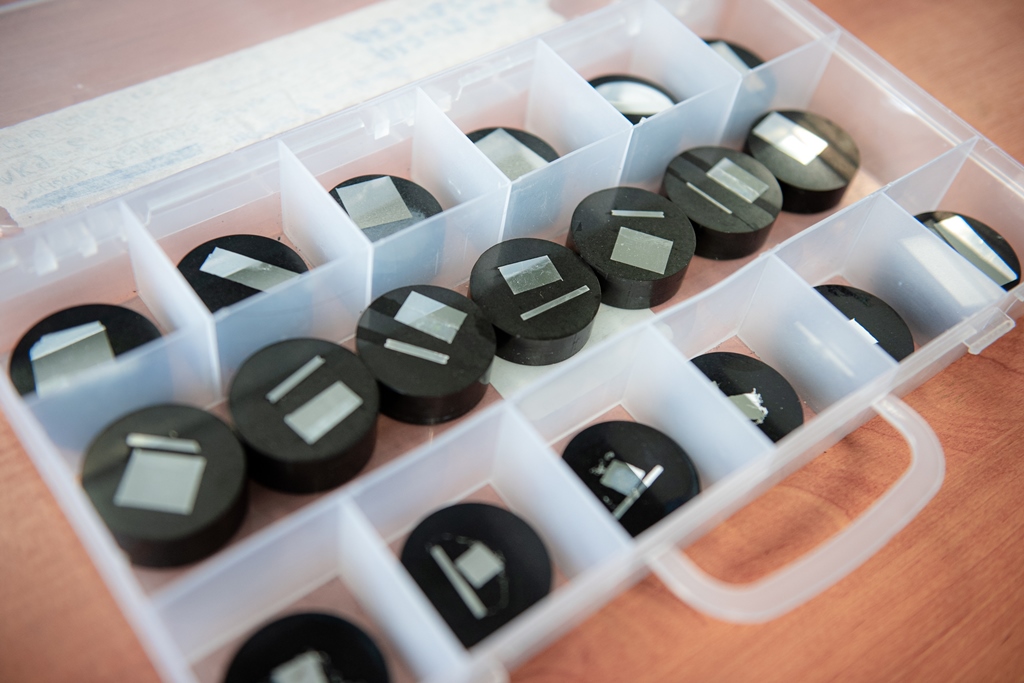 - The problem with all ceramics is that it is very difficult to obtain a high-density material, and porosity directly affects the physical and mechanical properties, - said Ilya Zhukov.

AlMgB14 has a unique property - it is self-lubricating, and therefore it has an abnormally low coefficient of friction. This provides silent operation of devices, and energy consumption can decrease by several times, while wear resistance will increase. The new material can be used in many areas, including engineering, aircraft, and household appliances.
The results of the work were published in the international journals Materials Today Communication (an article about the use of nonstandard powders that TSU scientists make) and Ceramics International (an article about using an exothermic reaction to produce AlMgB14). In addition, material scientists presented the results at the annual international conference in the USA, the Minerals, Metals & Materials Society 2020, and representatives of the Association of Brazilian Metallurgy, Materials Science and Mining became interested in their work.

The next step is the manufacture of a large series of samples to check the coefficient of thermal expansion - it is important to know it to use the material as a coating on steel, titanium, and other substances. The scientists will also analyze the thermal conductivity, electrical conductivity, and mechanical behavior of the material.