International students become moderators of language clubs organized by the International Resource Center of the TSU Research Library.
Meetings of
«Español con Gabriel»
have already started and are held on Wednesdays; and there will also be two more clubs on Thursdays – Chinese and French.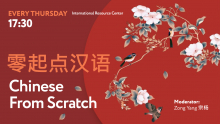 Zong Yang will be a moderator of the Chinese from Scratch club. She is majoring in translation and worked as a teacher of English at school and in private organizations. As a moderator of the club, Zong Yang considers her mission to teach Chinese for beginners. The club meetings are going to be a good starting point in learning Chinese for everyone who need it for communication purposes and for those who are planning to take professional exams.
Meetings of the Chinese club will start at 17:30 every Thursday in the International Resource Center on the 3rd floor of the Research Library New Building.
Registration is necessary:
https://docs.google.com/forms/d/e/1FAIpQLSeSxxnZGnuReMevp-fT4WA-zpSCi8xYNTVxlZ4Rl55ennhoog/viewform
The French club, which is now called Café français, has new moderators as well.
Alban Guibert came to Tomsk from Rueil-Malmaison, a commune in the suburbs of Paris. Alban learnt about Tomsk State University during a meeting between Russian professors from Siberia and French students organized by the Russian Cultural Center in Paris. Alban majored in history and geography, and the Russian language was his minor. He continues to learn Russian and history at TSU and is going to apply for a master's degree program. Culture, languages, travelling are among Alban's interests as well: he has already visited 10 countries and will be happy to share his knowledge and impressions with the participants of the French club.
Fateh Derghal is a master's degree student of the Biological Institute from Algeria. In addition to Arabic and English, Fateh is proficient in French. He had been teaching English at school for 7 years. He loves music, reading, painting, and walking outside. Fateh hopes that his interest in different languages will help the participants to learn French as it is easier to learn a language together.
Café français meetings will take place on Thursdays as well in the International Resource Center on the 3rd floor of the Research Library New Building. The meetings will start at 18:30.
Registration is necessary:
https://docs.google.com/forms/d/e/1FAIpQLSc6mAOeASW8Uoc5hdMMxAyflhFnafGPz0U3vmTYvwGelFnnDA/viewform