Melih Buyuukkoroglu, from Turkey, a student at TSU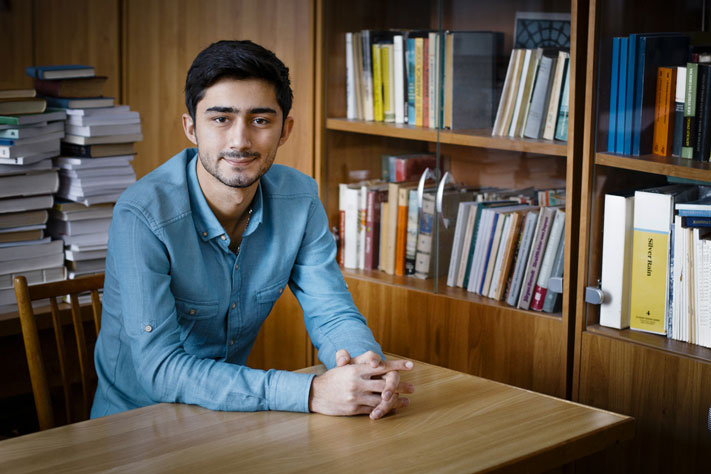 This is the third year I've been living in Tomsk and studying English philology. Turkey does have very good education in foreign languages, and my friend advised me to go to Russia. Here, distinct from English-speaking countries, it is possible to learn two languages: English and Russian. I became interested, and began to search for more information on the Internet and found Tomsk State University. When I told my parents that I will go to study in Siberia, they said that I'm crazy. I had to prove them that I had finally decided and was ready for such changes.
I've been making a lot of photographs and sending views of Tomsk to my parents. At first they did not believe me, because they don't expect that Siberia can have such beautiful cities. I especially like how many trees there are in Tomsk. In my city we cut down trees, but then instead built high buildings. And the air has not become clearer.

After three years here I almost feel like I'm a Russian man. When my roommate asks if I've done my homework, like a normal Russian student answer that I will do it at the pair. My friends from Turkey laugh when I say that I must do my homework because in Turkey only elementary pupils have homework. Another subject for jokes is physical education. There is no such discipline in Turkish universities. I decided to not complicate my life here and chose chess.

Russia has a lot of strange superstitious beliefs. I do not understand why you can not pass something through the door, why we should knock three times a fork that falls on the floor, why we shouldn't take out the garbage at night. But I used to living with these superstitious beliefs, because my neighbors strictly monitor me for abiding by them.

Here I became convinced that Russian women are, indeed, very strong. They work everywhere, as drivers, security guards, shop assistants. Almost all our teachers are women. The first time I came to the barber shop I thought that I had come to the women's salon. Then a friend told me that most hairdressers in Russia are women. And we have the opposite. I don't know what Russian men do here.

It is strange that you have to pay for packages in stores. In my first visit to a supermarket I took two packages and didn't pay for them. The seller quite angrily looked at me and asked for 3 rubles. I carry a bag with their advertising, why should I pay for it?

I was so happy when I moved to a dormitory. I thought that now I wouldn't have to cook, because in Turkey students are fed in dormitories. It turned out that I have to cook. I treat my neighbors with sweets and Turkish kebab. But it is impossible to prepare delicious food, because fruits and vegetables here do not have a rich taste. Moreover, they are very expensive. Once I asked the seller about a kilo of apples, but then I saw the price and realized that I could buy only one.

I don't understand today's relations between Russia and Turkey, it is dirty politics. Now for Turkey it is much more important to have convergence with Russia, not with Europe, because between the two nations were established very strong friendly ties. I hope that they can keep them. So far no problems with staying in Russia have arisen. I hope that this confrontation will be over soon. I love Turkey, but I'm also in love with Russia.

The text of the interview was provided by obzor.westsib.ru