Yao Ming, from China, a student at TSU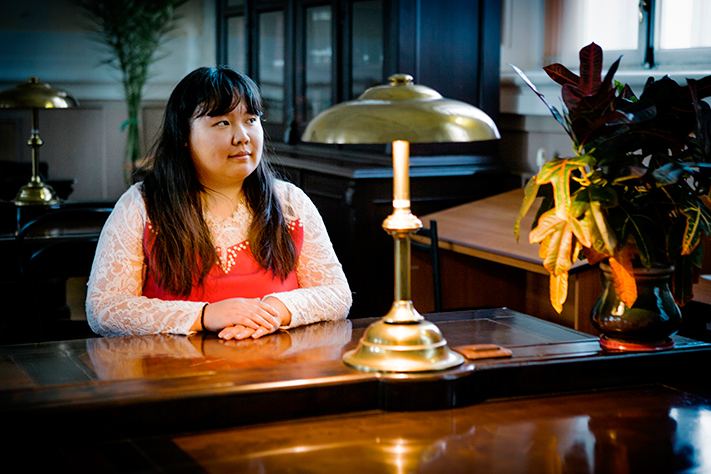 I arrived in Tomsk two years ago as student of the exchange programme between the Shenyang Polytechnic University and Tomsk State University's Faculty of Philology. After my baccalaureate, I decided not to return to China, but to stay here and enter the Masters programme. Now I am studying particularities of teaching Russian as a foreign language.
Russia, of course, has many attractions, but the most important is the nature and fresh air. And Tomsk is a particularly clean and green city, grass and trees are everywhere. Unlike in China, it is nice to just sit outside and breathe fresh air.

In Tomsk, I've more and more recognized the Slavic culture, and I like it. From time to time I go to the Museum of Slavic Mythology. There, in one of the lessons, I made and decorated a matryoshka. Now I keep it in the dormitory. I like Russian Maslenitsa: the burning of effigies, games, and delicious pancakes. It's funny when men try to climb the tall post for a small gift. I think almost no one can, but it's fun to watch.

I was impressed by the Orthodox churches. I've never seen anything like this. The first time I went to church with an uncovered head, and then found out that women must wear a headscarf. Now every time I go to the church, I cover my head with something. Of course, I don't understand anything that the priest says, but I feel the sanctity of the place.

This year, I moved from the old to the new dormitory, without cockroaches and endless queues for the shower. Unlike in China, dormitories in Russia are at least not similar to a prison. Our young men and women live in different buildings and have no right to visit each other's rooms and every evening a commander inspects all the rooms. And in the first year we are not allowed to use a computer. The system is very hard, and it's depressing. In Tomsk, I finally felt free.

In China, it is prohibited to cook in the dormitories, and a kitchen is not even available there. But in Tomsk we always cook for ourselves. Usually we cook soup, vegetable salad with mayonnaise, or some Chinese food. I was in a Chinese restaurant, but I did not like it: the dishes were too sweet and not sharp enough. To create the necessary sharpness you need to add red pepper in hot oil.

At first, Tomsk seemed unfriendly to me. It seemed that Russian people never smile, especially to strangers. Over time, I realized that this is not true. Maybe you do not smile often, but your heart is definitely kind. I do not know whether I will return home after the Master's degree, or stay here. I was offered a job as an interpreter in Asino, and I have already gotten used to the cold Siberian climate.

The text of the interview was provided by
obzor.westsib.ru