Why Tomsk?
George Chao - a teacher of Venture Startup Workshop from Massachusetts Institute of Technology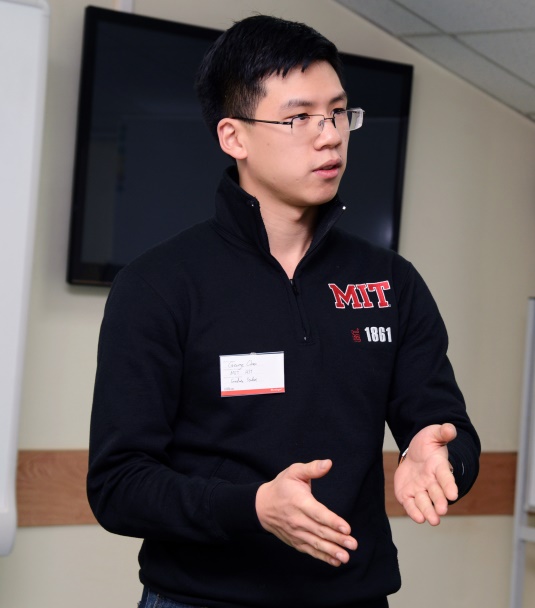 I have a stereotype that Russian people are not very willing to communicate with others. But it was something I really didn't see in Moscow. I was excited to see the sights of Russia, because I've heard that Moscow – it's another type of cities, and the real Russia is more like Tomsk. Tomsk is not your average Russian city. It is a college city. It is similar to Boston or to Cambridge. Tomsk State University, Tomsk Polytechnic University and another good university … And I think due to so many universities with young, very talented and intelligent people… That's obviously making Tomsk special.
And the second one that makes a contrast with the first is the fact that Tomsk is a very historical city. There are a lot of wooden houses. I really like them, because when I walked by I can smell this spirit. Smells good. I walked by those and then I took a marshrutka. It's scary, but it's really cool because it gives you a kind of interesting Russian experience. So I think it's a unique city, which makes us feel this old tradition and modern students. And there is also beautiful nature. I would say: keep it up! I know that this university still growing and improving. So keep up the good work.
Eugen Esche, a student from Germany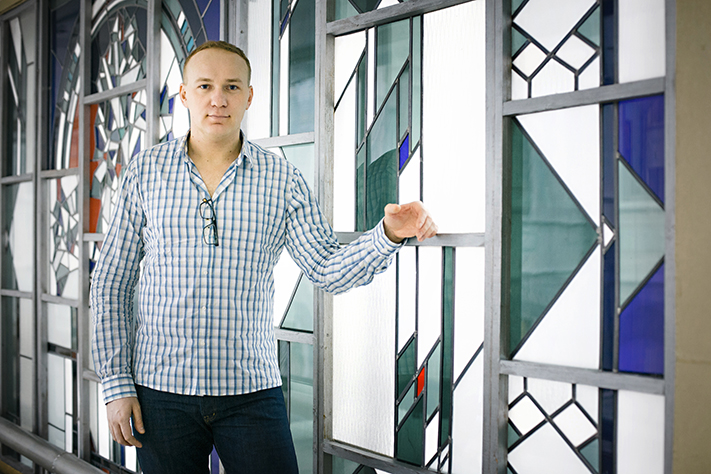 I arrived in Tomsk two and a half months ago, as part of the partnership programme between TSU and the University of Bamberg. At Bamberg I study philosophy, sociology, and Slavonic studies, because in the undergraduate programme Slavic studies can be studied along with other specialties. I often go to Russia, usually St. Petersburg or Moscow. So when it became possible to study in Russia, it was important for me to choose a non-capital university.
It was interesting to see a Russian province, to know the soul of a Russian person. As they say here, I'm bilingual, having grown up in two languages. I was born and raised in Nuremberg. My mother is German, and my father is Russian. With my mother I speak only German, and with my father I speak only Russian.
From childhood I was interested in Russian culture and language. Now I am more interested in developing in my Russian language than in German. Many of my childhood memories are somehow connected with Russia. Father often went on business trips to Moscow, and it seemed to me some kind of ideal city. He brought home the phonograph records of "Veselye rebyata" ("Jolly Fellows"), and my brother and I listened to them with pleasure. Somehow he was always Buynov and I was Glyzin. In adulthood, I was given a ticket to the concert of Glyzin in Moscow. I do not much like his music and style of performance as much as the opportunity to once again plunge into childhood.
I am very passionate about football. In 1994, the World Cup in America was the first for me where I consciously watched and supported the Russian team. In Tomsk, I have not missed the games of "Tom". The level of the team is very weak, but I like the show created around the game with colorful characters who shout obscenities from the stands. But their screams have no aggression, it seems more like fun. I associate such behavior with the culture of rooting at sporting events.
I think that in terms of architecture Tomsk is the most beautiful city in Siberia. The wooden architecture impressed me. As I understand it, these wooden houses now are being restored, and it's nice. I bought a guide to Tomsk in German and will explore the city. The first month in Tomsk was my theater month. I visited a puppet theater, the Drama Theatre, and the Theatre for Young People. Most of all I liked the performance of Turgenev's "Lack of Money". An interesting premiere "The Queen of Spades" was at Skomorokh. And, of course, the theater "2 + Ku" made a strong impression on me.
I love kebabs, but I do not like them as they are marinated in Germany. The Germans in general don't have such a thing, but even the Turks don't marinate it so well. Sometimes I when I go on the road I visit kebab shop, and buy myself a normal kebab.
We have great view of the River Tom' from a window of our hostel, and sunsets over it are very beautiful. I send these pictures to Germany, and they were all admired. It seems that Germany doesn't have such wonderful sunsets. It is a pity that the people here do not appreciate what they have. It would be nice if the bulk of the population would be more respectful to their hometown. In Tomsk, the majority of people live in an illusion of going to Piter, some want to live in Moscow, and the rest want to go abroad. Despite the fact that Tomsk has everything to live well.
Melih Buyuukkoroglu, a student from Turkey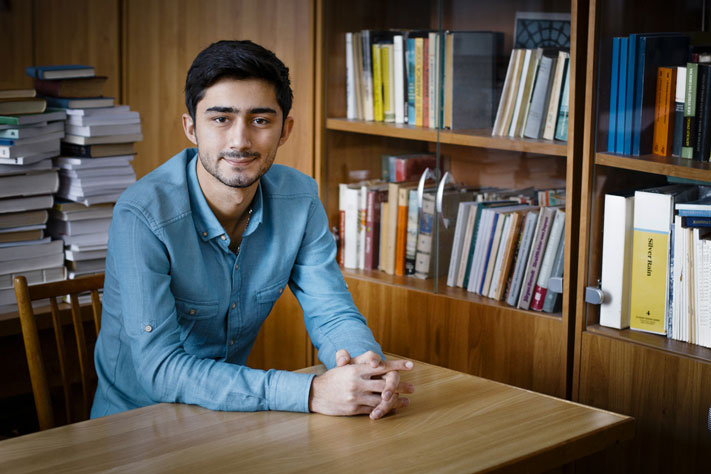 This is the third year I've been living in Tomsk and studying English philology. Turkey does have very good education in foreign languages, and my friend advised me to go to Russia. Here, distinct from English-speaking countries, it is possible to learn two languages: English and Russian. I became interested, and began to search for more information on the Internet and found Tomsk State University.
When I told my parents that I will go to study in Siberia, they said that I'm crazy. I had to prove them that I had finally decided and was ready for such changes. I've been making a lot of photographs and sending views of Tomsk to my parents. At first they did not believe me, because they don't expect that Siberia can have such beautiful cities. I especially like how many trees there are in Tomsk. In my city we cut down trees, but then instead built high buildings. And the air has not become clearer.
After three years here I almost feel like I'm a Russian man. When my roommate asks if I've done my homework, like a normal Russian student answer that I will do it at the pair. My friends from Turkey laugh when I say that I must do my homework because in Turkey only elementary pupils have homework. Another subject for jokes is physical education. There is no such discipline in Turkish universities. I decided to not complicate my life here and chose chess.
Russia has a lot of strange superstitious beliefs. I do not understand why you can not pass something through the door, why we should knock three times a fork that falls on the floor, why we shouldn't take out the garbage at night. But I used to living with these superstitious beliefs, because my neighbors strictly monitor me for abiding by them.
Here I became convinced that Russian women are, indeed, very strong. They work everywhere, as drivers, security guards, shop assistants. Almost all our teachers are women. The first time I came to the barber shop I thought that I had come to the women's salon. Then a friend told me that most hairdressers in Russia are women. And we have the opposite. I don't know what Russian men do here.
It is strange that you have to pay for packages in stores. In my first visit to a supermarket I took two packages and didn't pay for them. The seller quite angrily looked at me and asked for 3 rubles. I carry a bag with their advertising, why should I pay for it?
I was so happy when I moved to a dormitory. I thought that now I wouldn't have to cook, because in Turkey students are fed in dormitories. It turned out that I have to cook. I treat my neighbors with sweets and Turkish kebab. But it is impossible to prepare delicious food, because fruits and vegetables here do not have a rich taste. Moreover, they are very expensive. Once I asked the seller about a kilo of apples, but then I saw the price and realized that I could buy only one.
I don't understand today's relations between Russia and Turkey, it is dirty politics. Now for Turkey it is much more important to have convergence with Russia, not with Europe, because between the two nations were established very strong friendly ties. I hope that they can keep them. So far no problems with staying in Russia have arisen. I hope that this confrontation will be over soon. I love Turkey, but I'm also in love with Russia.

Yao Ming, a student from China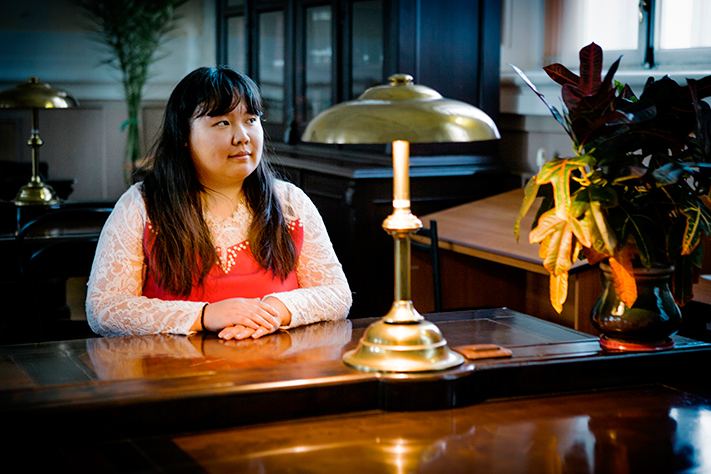 I arrived in Tomsk two years ago as student of the exchange programme between the Shenyang Polytechnic University and Tomsk State University's Faculty of Philology. After my baccalaureate, I decided not to return to China, but to stay here and enter the Masters programme. Now I am studying particularities of teaching Russian as a foreign language.
Russia, of course, has many attractions, but the most important is the nature and fresh air. And Tomsk is a particularly clean and green city, grass and trees are everywhere. Unlike in China, it is nice to just sit outside and breathe fresh air. In Tomsk, I've more and more recognized the Slavic culture, and I like it. From time to time I go to the Museum of Slavic Mythology. There, in one of the lessons, I made and decorated a matryoshka. Now I keep it in the dormitory.
I like Russian Maslenitsa: the burning of effigies, games, and delicious pancakes. It's funny when men try to climb the tall post for a small gift. I think almost no one can, but it's fun to watch.
I was impressed by the Orthodox churches. I've never seen anything like this. The first time I went to church with an uncovered head, and then found out that women must wear a headscarf. Now every time I go to the church, I cover my head with something. Of course, I don't understand anything that the priest says, but I feel the sanctity of the place.
This year, I moved from the old to the new dormitory, without cockroaches and endless queues for the shower. Unlike in China, dormitories in Russia are at least not similar to a prison. Our young men and women live in different buildings and have no right to visit each other's rooms and every evening a commander inspects all the rooms. And in the first year we are not allowed to use a computer. The system is very hard, and it's depressing. In Tomsk, I finally felt free. In China, it is prohibited to cook in the dormitories, and a kitchen is not even available there. But in Tomsk we always cook for ourselves. Usually we cook soup, vegetable salad with mayonnaise, or some Chinese food.
I was in a Chinese restaurant, but I did not like it: the dishes were too sweet and not sharp enough. To create the necessary sharpness you need to add red pepper in hot oil. At first, Tomsk seemed unfriendly to me. It seemed that Russian people never smile, especially to strangers. Over time, I realized that this is not true. Maybe you do not smile often, but your heart is definitely kind.
I do not know whether I will return home after the Master's degree, or stay here. I was offered a job as an interpreter in Asino, and I have already gotten used to the cold Siberian climate.
Valentina Mellino, a student from Italy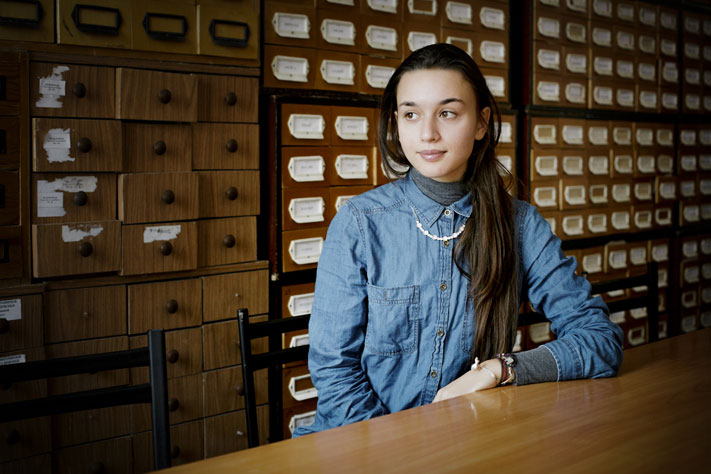 I arrived in Tomsk two months ago for an international exchange programme. At the University of Naples, I study Russian language and literature. My teacher said that TSU is a good university with a rich history and one of the best places to study the Russian language.
The night before the leaving, I hardly slept. Europe has a lot of stereotypes about Siberia. When we have unusually cold temperatures, we always say: "It is how it is in Siberia!" In Tomsk, I felt subzero temperatures for the first time.
I like to go outside the dormitory and see snow. All around is white, and it's very romantic. But I have to dress warmly: tight pants, gloves, scarves, hats. Sometimes I think that the Russian people are looking at me very strangely when I'm too wrapped up. But I'm always freezing cold. Today my hometown, Praiano, has sunny weather and it's about 15 degrees there.
My acquaintances constantly wondered: "To Tomsk? So far! Why do not go to St. Petersburg or Moscow?" I looked like a mad person in their eyes. But I think Siberia is more "Russian" than other parts of Russia. I
f a friend asks me where to learn the Russian language and culture, I will answer: "Tomsk". This town is not very big and not too small. It is ideal for students. Here, I feel protected. I noticed that many young people tend to leave from here to the bigger city. I don't understand them.
I think Tomsk is a great place to live. Clothes here cost like they do in Italy, but products are cheaper. Usually we do shopping at the nearest supermarket and cook in the dormitory. Most often we cook pasta, like real Italians. From Russian food I have tried buckwheat, pancakes, kefir, and sour cream. I really like pirogi with potatoes. My ration generally consists of two dishes, either pasta or pirogi. But, I am obliged to eat both with sour cream.
I was afraid that in Tomsk I would be lonely. In Italy, I've heard that Siberian people are cold and closed, but it is absolutely not true. I have met people with golden hearts here. I do not feel like a foreigner, a girl from Italy, because the attitude of the people around seems to me to say "Welcome!" Two months here is a good time in my life that has changed me a bit and made it clear that we are not so different as we used to think. People around the world in general are very similar to each other.
Li Chan TSU, Faculty of Philology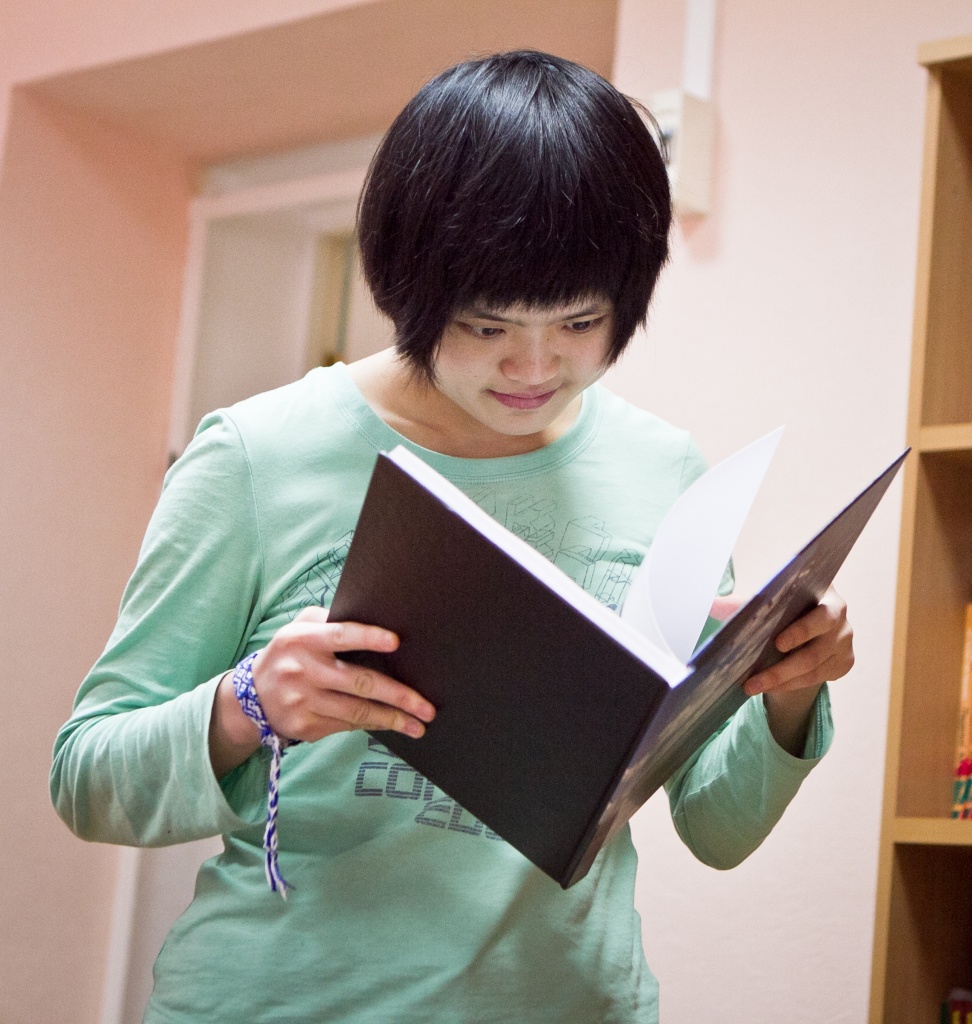 … But the most important thing in Tomsk for me is that here live my Russian friends, a lot of dear Tomsk citizens. F. M. Dostoevsky said: "Happiness isn't in happiness itself, but in the way to it", - in my opinion, the happiness is a time with your friends, your relationships and ability to share your memories with them.
My friend Julia is orthodox and sometimes I accompanied her to the church. There for the first time I saw praying people though I still can't understand the whole meaning, I felt that it strongly affects the usual life of Russians, their souls, and their life attitude. We often had tea together and talked of life, studies and others. My friend is very kind, thoughtful and cute; she helped me with packing before my leave. She always sat alongside me when I couldn't sleep at night, spoke to me and corrected my mistakes in spelling. I think that I really care about that girl, she has so many good qualities, and I feast my eyes on her.
Obviously I have a lot of good friends, but I don't want to speak about all of them here. I love Tomsk. I admire the attitude of Tomsk inhabitants to life. In my country people are aimed for material wealth, pace of life is very high, everyone cares only about one's own job, studies, relationships and forget about the one thing - "joy". But in Tomsk people are joyful. I mean that here one can live the way he wants to.
And, of course, my best friend is TSU, because here I received a lot of knowledge, became friends with my tutors and Tomsk students. And Tomsk state university taught me never surrender to difficulties, never give up. For example, on the New Year's eve I run across the streets, shouting "Happy New Year!" I ate some Siberian pancakes, enjoyed the firework. I was really amazed, I've never felt such a happiness in my country.
Nguyen Thi Le (Vietnam)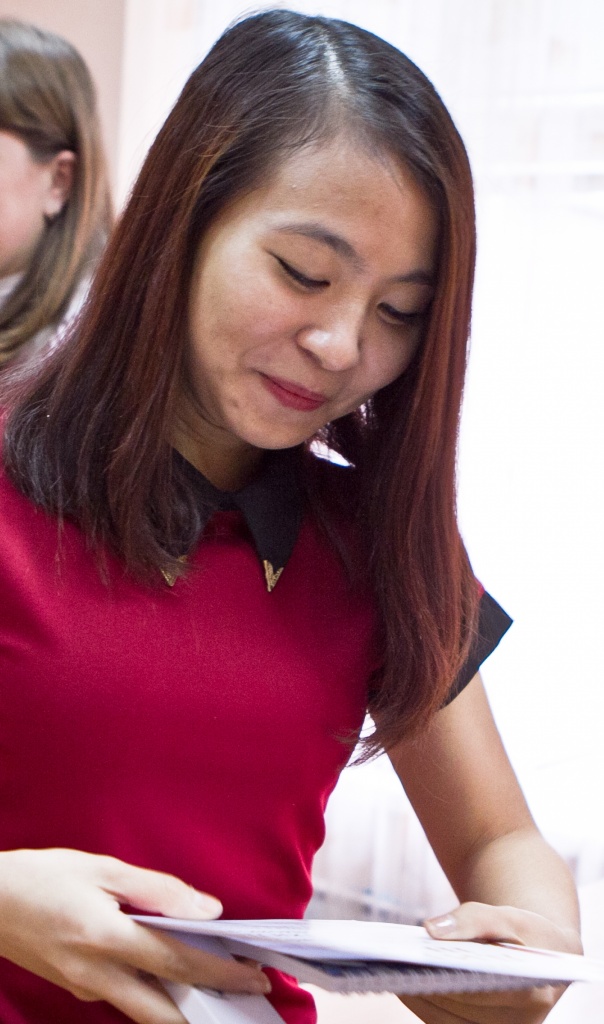 The first pancake is as usual a blob, for a novice especially. At first, the new life in a foreign country wasn't a piece of cake, it was so difficult that I was really close to giving up and return home. Everything I saw was so strange and foreign to me that time. But is it possible to surrender in the face of difficulties? No way! It wasn't in my nature. I decided to walk more; I became more interested in Tomsk, in its architecture because every day I learned more about it.
During my walks, I met many people and made friends with them. Tomsk inhabitants are very friendly and kind. When you have some problems they are always ready to help. Together we walk, go to cinema or theater, to the ice rink and compare our notes with each other. Tomsk is the oldest educational, science and innovative center in Siberia.
Tomsk climate differs from one I witnessed in Vietnam. I've never thought that there are some over types of climate besides rainy and dry season. And I was astonished that they differentiate so much. Winter is usually long and cold. And it starts sometimes already in October and it snows up to May. Sometimes in winter temperature falls down to 40 degrees below zero. And summer is brief, sometimes it rains, sometimes it is dry, it can be hot or chilly. Autumn is also various: warm, cold or chilly, rainy or dry… September and October are very beautiful. Russians call this time "Golden autumn". Leaves are yellow, red, orange and gold. But the late autumn is very cold and rainy. It even snows from time to time. It's complicated to describe the usual weather in Tomsk. The climate is very moody. At first I really suffered from it, it made me sit at home and I even didn't want to leave the house. I felt like in prison. Before Tomsk, I was a couch potato and unprepared to real life, but I did my best to get acquainted with my new style of life. And finally I've realized that life isn't that boring and hard. Life here is like a long journey without bus stops. I travel a lot, see a lot of people, overcome difficulties and discover the world. Now I know that Tomsk is my inseparable part and from now on will live in my soul. And I want to thank Tomsk for all my new friends.
Pete Summers (UK) Tomsk State University, Faculty of Foreign Languages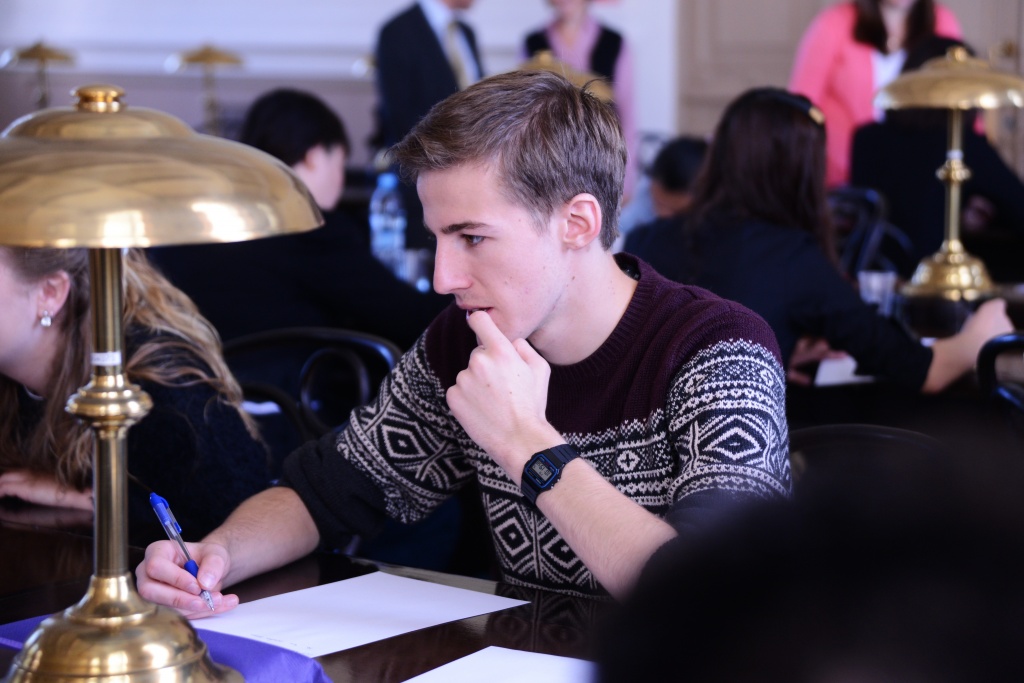 What is the foundation of cities? What is the difference between two cities? I've traveled a lot, both in Europe and Russia and I think that every city has its own specific features. It is known that Paris is a city of love and Saint Petersburg is a capital of Russian culture. And now comes the question: what's so special about Tomsk?? Why it is so high-priced for me?
Answering this question, I have to enlighten a bit where I'm from. I was born in Bristol, south-westward Great Britain, in a city beautiful and old, but nothing special. Last year, when I was looking for a place to go overseas for a year (it's a part of my Bachelor degree), I had a variety of cities to go – Moscow, Samara, St. Petersburg etc. But I chose Tomsk.
When I arrived people always asked me the same questions: what's your name? Where are you from? And why did you choose Tomsk? Despite the level of my Russian that time, I was able to answer the two first questions: "I'm Pit. I'm from Great Britain". But I couldn't answer the last question even in English. Probably I was in search for new experience, Tomsk differs of Bristol (especially in winter) and it was interesting for me to go somewhere.
And that's not to deny that I was pleased with all the new things I experienced every day: Russian bath, drive by "marshrootka" (route vehicle), buckwheat, okroshka and fennel everywhere. I know that all these things are usual for you, but for me this experience was absolutely new.
As time went on I get accustomed to the thing that Russian bath is just a good way to rest, Russian cuisine is tasty, and not that strange I found it at first. And marshrootka is… a marsrootka. And during my adventures in Russia I met and made friends with a lot of new people and I must confess that I was really lucky because they are the most interesting people; kind and good. Even the most usual things pleased me by virtue of the people I dealt with. There are a lot of good people all over the world, but I've never met such a huge amount of them, even in Bristol.
At the end of the year I had to return home before my trip to Moscow to take part in a traineeship. You can't even imagine how I missed my Tomsk friends – we are in touch but it's different. I was afraid that I will not be able to return because of my studies, expenses of such a tour and political problems.
But I was working, scraped a few pounds and returned here, only for a month, up to my examinations in October. It was really expansive and complicated to organize, but I would do everything for my friends in Tomsk.
And here is my answer – aren't the people is the foundation of every city? City doesn't exist without inhabitants. There are no such sights as in Moscow, no such places as in Saint Petersburg, but Tomsk is the place where the best people live.